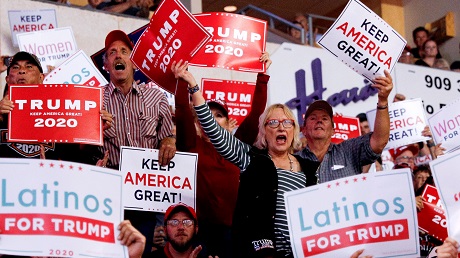 The real reason why Hispanics voted for Trump.
The 2020 US presidential election has not yet been officially decided. Some things, though, are indisputable and already a matter of truth. A big surprise for many was the fact that a staggering and surprising number of Hispanics voted for the incumbent 45th president. How can this be explained?
Trump picked up 10 million more votes in 2020 than in 2016. That only tells us, though, part of the story and misses a key tectonic shift within the political landscape. Yes, Joe Biden did manage to pull off some surprises with the legal votes he garnered. According to The New York Times, Biden managed to snatch from Trump certain sectors of white-collar, affluent, college-educated republicans from red counties. These country-club republican types never took in kindly to Trump's mannerisms, his hostility towards globalist schemes and only voted for him in 2016, because they detested Hillary Clinton more.
This victory lap for the Democrats, however, was brutally dwarfed by the Hispanic exodus to the Republican candidate. This lays witness to a far bigger conquest, not just for the GOP, but for what Trumpism stands for. It is on this seminal point, that most in the press and the Democratic Party have failed to comprehensively appreciate, much less express. This is, indeed, a nightmarish, devasting reality for the Democrats.

Continue Reading …The real reason why Hispanics voted for Trump