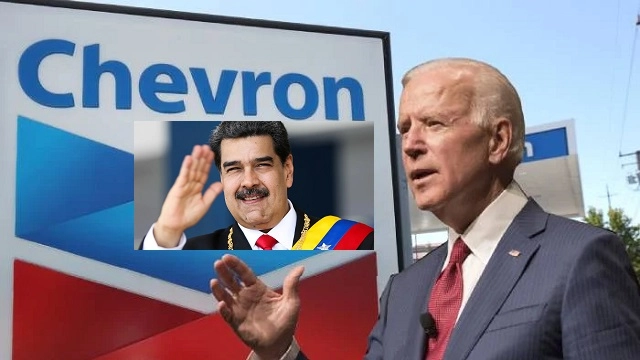 Biden OKs Venezuela Oil Imports After OPEC+ Production Cut Disaster. CARACAS- The Biden administration, through the Department of the Treasury's Office of Foreign Assets Control (OFAC), issued a license to California-based Chevron on Saturday that allows the company to produce and export oil from Venezuela.
OFAC specifically states that Chevron is allowed to engage in the "sale to, exportation to, or importation into the United States of petroleum or petroleum products produced by the Chevron JVs," meaning Chevron's joint ventures in Venezuela.
The renewable license, initially valid for a period of six months and revocable at any time, prohibits any kind of taxes or royalty payments from Chevron to the Maduro regime. It also prohibits the payment of dividends of any kind to Venezuela's state-oil company Petroleos de Venezuela (PDVSA) or any entity in which PDVSA has a majority stake.
The license also bans Chevron from engaging "in any transaction or dealing in or related to goods or services of Iranian origin" as well as any transaction involving entities in Venezuela owned or controlled by Russia. In the case of Iran, the Islamic nation has provided continuous aid to the Maduro regime in the repairing of Venezuela's rundown oil refineries after years of socialist management brought them to the brink of complete ruin Iran has begun to refine upwards of 100,000 barrels of its own oil per day in Venezuela's El Palito refinery, located in Carabobo State.
Continue Reading …Biden OKs Venezuela Oil Imports After OPEC+ Production Cut Disaster