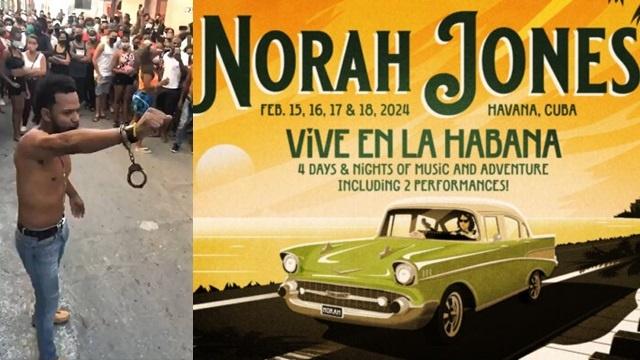 What Norah Jones Should Know Before Going to Cuba
The famous singer, composer, instrumentalist, and actress Norah Jones, has launched a commercial operation to go on Tour in Cuba, under the category "cultural exchange". Knowing that the Cuban State will take care to guide her every step in the country, and considering the proclaimed objective of her trip, I'd suggest that she take a look at a publication close to her professional environment, Rolling Stone magazine, before she catches her flight.
The January 2023 edition of the digital version of this magazine had the cover with this headline: "Two Years After "Patria Y Vida", Cuban Rapper Maykel Osorbo Remains in Jail." The eldest daughter of the masterful sitar player Ravi Shankar has won nine Grammys. It would be a good idea for her to interact with the two-time Grammy award winner, who is now serving a long sentence behind bars.
Maikel is the Creole version of the English name Michael and Osorbo is a word from the Yoruba language which means bad luck, darkness, curse, negative environment, The Yoruba ethnic group was part of the hundreds of thousands of Africans who nurtured the slave plantations both in Cuba and the US, whose legacy is in the soul of the two cultures that will meet, according to the official plans for the project of this beautiful woman from New York with paternal Hindu ancestors.
I'm not going to tell Norah the story about Patria y Vida, which won "Song of the Year", at the 2022 Latin Grammys. Just an observation: out of the six Cuban artists up for the award, only Maikel missed the ceremony. He has been in prison since July 11, 2021, after taking part in peaceful protests alongside thousands of fellow Cubans that very same day, which resulted in 1,047 prisoners of conscience, well documented by international institutions.
Continue Reading …What Norah Jones Should Know Before Going to Cuba