Open Borders Activists: 'Cops and Borders, We Don't Need Them!'
Open Borders Activists: 'Cops and Borders, We Don't Need Them!'
A group of open borders activists and illegal aliens demanded "total freedom" from both law enforcement and borders during a lengthy demonstration in Washington, DC, Friday, where Secret Service made arrests after activists blocked an intersection near the White House.
Several activists, some of whom are affiliated with the group Movimiento Cosecha, carried megaphones and led the crowd in chants of "Cops and borders we don't need them. All we want is total freedom!" Watch the VIDEO:
Read more: Open Borders Activists: 'Cops and Borders, We Don't Need Them!'
Border Sector reports 380% Increase in Criminal Arrests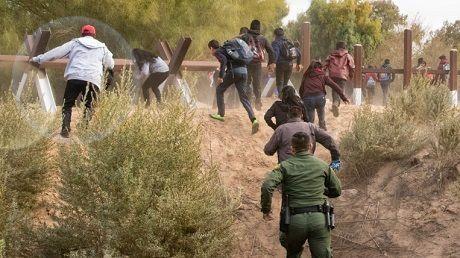 Border Sector reports 380% Increase in Criminal Arrests.
Customs and Border Patrol revealed figures showing that one of 20 border sectors is experiencing a nearly 400 percent increase in attempted border crossings.
The shocking figure is buried in a recent Customs and Border Patrol (CBP) press release, "Convicted Murderer and a MS-13 Arrested by RGV Border Patrol."
The press release details how the Rio Grande Valley (RGV) sector of the border has arrested 1,625 criminal aliens in fiscal year 2021 in comparison to 338 migrants last year:
Read more: Border Sector reports 380% Increase in Criminal Arrests
Biden's immigration policies crisis
Biden's immigration policies crisis. President Joe Biden's immigration policies have led to the surge in migrants traveling to the United States and illegally crossing the border, members of Congress charged on Monday.
Standing in El Paso, Texas, near the U.S.-Mexico border, House Republicans denounced the policy changes, relaying the overcrowded conditions they saw firsthand in a holding facility and the dismay from border agents who are being overwhelmed.
"This is a human heartbreak. The sad part about all of this is it didn't have to happen," House Minority Leader Kevin McCarthy (R-Calif.) told reporters, calling the situation the "Biden border crisis."
Mass Immigration
What is mass immigration?
Mass immigration, as a policy of state, means the ability of people from different countries to be able to enter the territory of another with little or no legal impediments. While the effects of this type of public policy are many as is the debate over its merits or disadvantages, there is much evidence to suggest that it does have dire consequences in debilitating the principle of national sovereignty, suppress wages for low-skilled national workers, financially burden the social benefits/insurance programs and weaken the social fabric by groups hostile to the principle of assimilation.