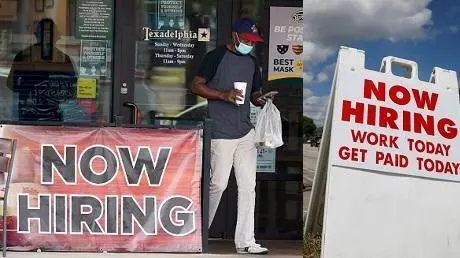 Jobs/unemployment numbers better than projected. New jobless claims fall to lowest level since mid-March.
The number of new applications for unemployment benefits dipped to 881,000 last week, the Labor Department reported Thursday in an encouraging sign for the economy.
Forecasters had projected 950,000 new jobless claims.
Instead, claims fell to the lowest level since mid-March, before the pandemic induced mass layoffs.
The drop hints at a slowdown in layoffs, which would be good news for the reeling labor market. But it also could be an artifact of changes the Labor Department made to its calculation of jobless claims. The agency employed a new methodology for adjusting for seasonal changes in employment, such as teachers returning to work or students quitting their jobs to return to school. The extreme rise in jobless claims caused by the pandemic made such adjustments difficult.
An additional 760,000 workers applied for benefits through the Pandemic Unemployment Assistance program, which provides for unemployment insurance for people sidelined by the epidemic who normally wouldn't be eligible for benefits, such as gig workers whose business dried up.
Seasonally unadjusted claims for regular benefits were just over 833,000 last week and have been trending lower, suggesting that there has been real underlying improvement in the labor market.
Weekly seasonally adjusted claims had generally been running above 1 million since March. Before, such a high number would have been almost unthinkable. The highest number registered during the Great Recession, in 2009, was 665,000.
As the coronavirus hit the United States and the economy locked down to slow its spread, jobless claims skyrocketed in March, with 6.9 million filing for benefits for the week ending March 28.
The number of workers claiming unemployment benefits dropped precipitously through the end of May but remained above a million until the week ending Aug. 8 before reversing course and rising above a million again for the prior two weeks.
The overall jobs situation is dire. There were nearly 30 million people claiming benefits in all jobless programs for the week ending Aug.15. There was roughly 1.6 million people claiming those benefits in the comparable week in 2019.
Auhor: Jay Heflin, Business Editor
Read full article on Washington Examiner