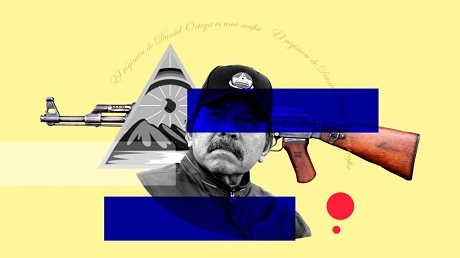 The Ortega Regime in Nicaragua Works Like the Mafia, Journalist Judith Flores Says.
Nicaragua has been in the news lately and not for good reasons. El American had the opportunity to sit down with Judith Flores, a journalist, digital editor for the Diario las Américas and columnist at La Gaceta (Spain). A native of Nicaragua, the very qualified investigative reporter, touched upon aspects of the systemic crisis currently under way in her country.
The past, as well as the present and the future, were part of the conversation that helped provide a better appreciation of what is happening in what once was the most prosperous country in Central America, prior to the initial Sandino-Communist takeover of power in 1979.
The absence of a transitional judicial process, following the initial Sandinista dictatorial reign (1979-1990) and the ensuing civil war for liberation carried out by the anti-communist freedom fighters, known as the "Contras" — considering the crimes against humanity and crimes of war that were committed by the Marxist regime — went unaccounted for.
In Judith Flores's estimation, this institutional failure paved the way for the concurrent return of socialist despotism in 2006. Agreeing that the communist prototype utilized by the Sandinistas in their regrettable return to power (2006), was an adaptation of the Sao Paulo Forum dictatorial model, developed in 1990 in response to the fall of Soviet communism, the Nicaraguan journalist contends that the repressive state format mirrors that employed in Venezuela. There is a good reason for this. The Cuban communists continue to exercise imperialist overseer control of both regimes.
Flores highlights the fact that in practice, the Ortega Sandinista government "functions like a mafia". Furthermore, she offers insightful information that often goes unnoticed. The Sandino-Communist foundational structure has fractured into numerous sects following the loss of the 1991 elections, carried out because of the pressure from the belligerent freedom forces. These competing forces of socialism present themselves today as "oppositionists" to the Ortega dictatorship.
The interviewee mentions that, although they may have differences with the Ortega family, these factions still embrace Marxism-Leninism. This point is fundamental in avoiding false perceptions. Even some that have been jailed by the Ortega regime, were once a structural part of the monstrous Sandinista terror machine in the 1980s.
Regarding expressed condemnations by regional and international organizations, like the Organization of the American States, about the gross human rights violations in Nicaragua and its effectiveness in potentially producing regime change in her beleaguered native country, Flores concludes that these well-intentioned efforts are insufficient to bring about liberation and subsequently a path to democracy.
Nicaragua will remain a current issue if socialist despotism commands political power. In other words, she reminds us, this is the case if they subscribe to Marxism. Whether they have the Ortega last name or not, is irrelevant.
©The Cuban American Voice. Originally published in @El American. All rights reserved.