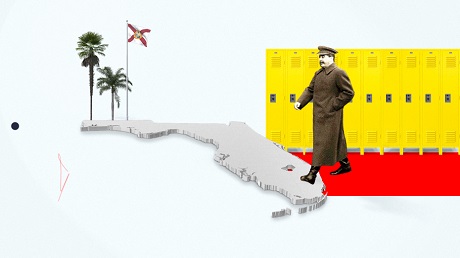 How Teaching About the Horrors of Communism Made Its Way into Florida Schools: Benjamin De Yurre.
AUTHOR JULIO M. SHILING AND TOMÁS LUGO
As part of our series of short interviews, contributorJulio M. Shiling sat down for a conversation with journalist, economist, and political analyst Benjamin De Yurre, president of Teaching Anti-Communism in America (TACA), an organization dedicated to introducing the teaching of the horrors of communism into the public education curriculum in the US.
Led by De Yurre, TACA produced the anti-communist curriculum for Florida's public education authorities and signed it into law by its governor, Republican Ron DeSantis.
Born in Cuba and raised in Venezuela, De Yurre knows very well the effects that communism has on society. He says his initiative was born "by chance" at a meeting of people of multiple nationalities in Miami, including Cubans, Nicaraguans, and Venezuelans. While addressing about a hundred people at that meeting, the economist thought of creating a subject to teach the horrors of communism to the next generations.
After the meeting, De Yurre wrote a column in El Nuevo Herald entitled "Anti-Communist Schools for the Next Generation" and personally took it upon himself to spread the idea among several local political actors he knew and federal. As a result, one of these politicians submitted a proposed anti-communist curriculum to the Florida state legislature.
Extending the fight against communism
In February 2021, Republican Ardian Zika, a local representative to the House of Representatives, and local Senator Ana Maria Rodriguez introduced the bill, then titled Civic Education Curriculum (HB 5 and SB 1450 of 2021).
After months of discussion in the local House and Senate, the bill passed unanimously and was signed by Governor DeSantis in June 2021, making Florida the first state to officially introduce teaching about the horrors of communism into the public curriculum.
Since then, De Yurre has lectured at universities across the country and even abroad. In fact, he believes that one of his lectures in Spain, together with the leader of the conservative party VOX, Santiago Abascal, could have been the precedent for the creation of the Madrid Forum, an initiative that was born to confront the Sao Paulo Forum in alliance with the entire West.
Watch the full interview with De Yurre and much more exclusive content through "El American" YouTube channel and follow El American's social media to stay informed.
©The Cuban American Voice. Originally published in @El American. All rights reserved.