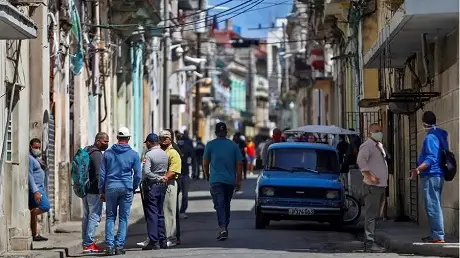 Castroism's Recent Economic Rehashing.
Another venture into regime-directed economic reformulations that could potentially serve social domestication and political durability.
János Kornai, the Hungarian economist, was most correct when he declared in his classic The Socialist System: The Political Economy of Communism (1988) that "socialism is irreformable". The former communist discovered early on that Marxian economic models breed what he coined a "shortage economy". Vladimir Lenin's New Economic Policy (1921) was one example of a desperate attempt to save socialism from collapse by tempering radical collectivization schemes with politically controlled flirtations with state capitalism. Castroism's recent economic rehashing is another venture into regime-directed economic reformulations that could potentially serve social domestication and political durability.
Communist China has perfected this prototype. Vietnam followed suit. The "China Model" (a/k/a Socialism with Chinese Characteristics) and Vietnam's "Đoi Moi" are both a sociopolitical configuration of a Marxist-Leninist state with a hybrid economic system consisting of a regime-driven model that utilizes modern concepts and practices of the market, the international division of labor, finance, and trade for the purposes of staying in power and promoting socialism. Key to sustaining the dictatorial hold requires the money (lots of it) to pay for the elaborate network of repressive state terrorism, and the ability to domesticate, both, internal society and the diaspora. This China and Vietnam have been able to comfortably achieve. Castro-Communism has been trying to accomplish the same thing for decades but has consistently failed.
While Cuban communism's immersion in economic liberalization programs pales in comparison to China's or Vietnam's, there has been an ongoing series of initiatives since 1982 (Decree No. 50) that have aspired to improve production, attract foreign collaboration, and simultaneously retain internal social control and coopt the exile community. These economic experiments have usually been revered or systemically diluted, because of the Castro's regime inability to maintain the necessary synchronization of Cuban society on the Island and in exile, in line with their political objectives. The only constant and expanding phenomena of the communist economic "reforms" has been its involvement in state capitalism with the regime-owned, military-run corporations which currently control 70% of Cuba's economy (90% in the tourist sector).
The most recent Castro-Communist proposal in this quest has been Decree/Law No. 46 (D/L 46) emitted on August 6th. This latest attempt at stimulating production, while assuring popular regimentation (internal and external) is aimed at allowing "private" businesses to exist in the micro (1-10 employees), small (11-35 employees), and medium (35-100 employees) categories. Carefully crafted to preserve the dominating role of the Cuban communist state in all economic spheres of relevance, including policy setting, and business access to markets, credit, and resources, D/L 46 is wholly constricted to assure ideological conformity.
The current Cuban courtier entrepreneur, like that which exists in China and Vietnam although on a much smaller scale, is the prototype of an emerging concessionary capitalism business class that is a product of a socioeconomic order which simulates much more a form of socialist mercantilism. These fake capitalists are, on a functional basis, completely submissive to the dictatorial political order. In fact, some may argue, that they are the regime's protected commercial class. Within this context, non-state (or "private") business entities that have challenged the official dogma have been punished. This is the idea behind the "socialist market economy model".
Two cases that highlight acts of bravery and defiance against the Castro regime's bullying against non-conformists are Ring Pizza, a small pizza delivery service and restaurant in Havana and Café Amarillo B&B in Santa Clara. The day after the Cuban Uprising of July 11thth, the massive nationwide protests across Cuba in over 50 localities, the owners of Ring Pizza posted on social media "after 10 years of being your favorite pizzeria today we do not come to sell you pizza, we come to say Patria y Vida! Down with Communism! Freedom for Cuba!" After constant harassment by the Cuban dictatorship, Ring Pizza announced on Facebook, as reported by ADN Cuba on September 8th, the business' shutdown, "We will be closed until Cuba is free", read the message, "we will not work with communism, we need change and we need it now."
Saily González Velázquez, the owner of the popular breakfast and brunch outlet, closed her business on October 14th. Through a tweet from her account @SailydeAmarillo, the vocal entrepreneur and human rights activist said "This is how @amarilloBBcuba says goodbye until #Cuba respects the right to think and speak of all Cubans. It cannot be that being an entrepreneur and activist is a danger for those who are and those around them". Cubans on the Island are planning a massive march across the country for November 15th (15N) called a Civic March for Change. González Velázquez is one of the event's promoters. The owner of Café Amarillo B&B has been threatened with a jail term, for her political views and civic activism.
On the other side of the moral coin is Orelvis Bormey, the owner of Casa del Maní Bormey, one of the first micro businesses to receive approval to operate under the Castro regime's D/L 46. A Castro government media outlet, Telecubanacán, published on October 16th a choreographed address by supposed workers of Bormey's peanut business voicing their opposition to the 15N protests, something the Marxist dictatorship has already announced that they will not tolerate. Receiving full support from the communist regime, Bormey publicly came out against Cubans exercising their natural rights in the 15N march. Referring to the preservation of socialism in Cuba, the Santa Clara courtier businessman said, "We don't want it to be destroyed or taken away."
Bormey, long an apologist for Castro-Communism, has previously received recognition by the dictatorship for his service to Cuba's socialist economic schemes. The peanut business owner represents the ideal type of ideological submissive entrepreneur that socialism is attempting to harness. This concessionary "capitalist" class that seeks to thrive in a Marxist-Leninist regime, bears an extraordinary similarity to the corporatist arrangements of Nazi Germany. These accomplices of tyranny should keep in mind that the fall of National Socialism (Nazism) meant for many in the business class, a criminal conviction for their role in assisting the execution of crimes against humanity.
©The Cuban American Voice. Originally published in @El American. All rights reserved.