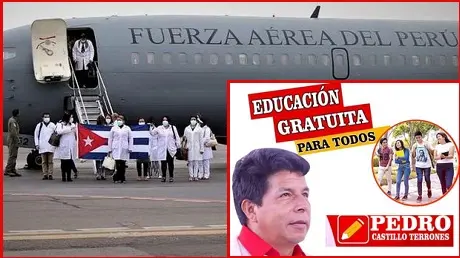 Cuban influence in leftist candidate for the presidency of Peru.
Maria Werlau, founder of the Cuba Archive at Georgetown University, has warned Peruvians about Cuban interference in the program of Pedro Castillo, leftist candidate of the Peru Libre party for the second round of elections in the South American country, to be held on June 6.
In an interview with the site Perú 21, the Cuban-American intellectual, author of the volume La intervención de Cuba en Venezuela: Una ocupación estratégica con implicaciones globales, points out that "the evidence of Cuba's penetration in Peru is solid" and has been documented since the early days of Fidel Castro's revolution.
"We know how Cuba operates and how it has exported this model throughout the region for more than six decades. This is not new; they are experts in mass mobilization", he points out, and adds that the regime's attempt to take the model to other countries in the area has never been stopped, it has only adopted other forms, by way of "make-up to the obvious armed subversion".
Continue Reading …Cuban influence in leftist candidate for the presidency of Peru