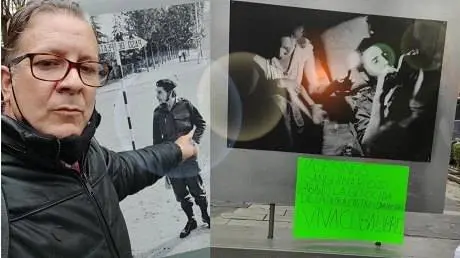 Cubans in Spain protest exhibition on the assassin Che.
A group of Cubans in Spain has protested for three days against a photographic exhibition in Guadalajara, Castilla - La Mancha, which exalts the figures of the late dictator Fidel Castro and Ernesto Che Guevara, reported on his social networks Lázaro Mireles, president of the Actions for Democracy movement.
The photographic exhibition, which was authorized by the city government, positively highlights "revolutionaries of principles and commitment" among some 50 transcendent figures.
According to Mireles, the protests, in which the presence of former political prisoner Lázaro Alejandro García Farah stands out, seek that "the civil society in Spain understands that this is a lie and manipulation of the left and to show them the true reality of the figures of these two characters".
Likewise, the activist assured that during this week the Cubans will file a complaint against the photographic exhibition.
For his part, García Farah affirmed in front of the image of Guevara in the advertisement that his protest seeks to awaken the conscience of those who allowed this photographic exhibition, and pointed out that the Argentinean Guevara does not deserve to be "next to so many outstanding figures for his cultural legacy and his defense of human rights".
"This is a wake-up call to the conscience of the Spaniards. We have many unpleasant things to tell (...). With no other intention than that the same thing that happened to us does not happen to you, we are denouncing that these things happen in a country of the free world that has known how to live in prosperity after suffering a dictatorship", he said.
Several controversies have been unleashed in recent years as a result of the use of Che's image by international organizations, clothing brands, sports teams and the installation of tribute busts.