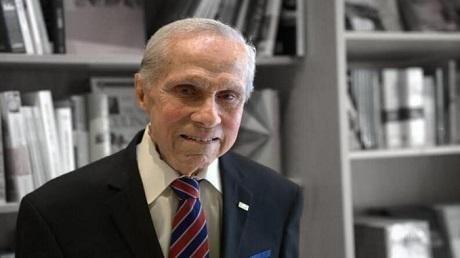 Ángel Cuadra, Poet, Political Prisoner, Lawyer Passed Away. Cuban exile icon Angel Cuadra dies in Miami at the age of 89.
The historic Cuban exile community has lost another leader. Angel Cuadra, a poet and former political prisoner, passed away at the age of 89 on Saturday.
Requiescat in pace Angel. Your legacy and your integrity will live on and guide future generations.
Via Martí Noticias (my translation):
Poet and former political prisoner Angel Cuadra dies in Miami.
A former Cuban political prisoner, poet, and author, Angel Cuadra Landrove, passed away in the early morning hours of February 13 in the city of Miami at the age of 89, according to the PEN Club of Cuban Writers in Exile.
Cuadra Landrove fought against the dictatorship of General Fulgencio Batista and later against Fidel Castro, who imprisoned him in 1967. The poet spent 15 years in prison: his writings, which criticized the system, were considered "subversive activities" seeking to topple the Castro regime.
The PEN Club of Cuban Writers in Exile, where the Cuban poet was an Honorary member and founder, lamented his passing and explained how the poet, who had an extensive portfolio of work, was able to maintain "his patriotism and the culture" during his time in prison.
The organization's president, Luis de la Paz, said that "the physical passing of the writer leaves behind a legacy of integrity and nobleness. "One of the great Cuban poets and one of the greatest fighters for liberty has died. His death saddens the world of poetry and leaves the exile community in mourning."
For novelist Jose Antonio Albertini, "Angel Cuadra was the Cuban who came closest to the historical figure of Jose Martí in the struggle against totalitarianism because he was willing to sacrifice his literary talent in the fight for liberty and democracy in Cuba. He was an exceptional poet and fighter."
Cuadra was director of the Institute of the Historic Cuban Memory Against Totalitarianism and a member of the Ex Club of Cuban Political Prisoners.
"The poet was one of the most prestigious intellectuals and an exemplary human being who suffered through a long prison sentence with commendable integrity," said professor Eduardo Zayas-Bazan
Athor: Alberto de la Cruz, American by birth, Cuban by blood, and anti-communist by personal experiences and reading a history book. Managing Editor at http://Babalublog.com