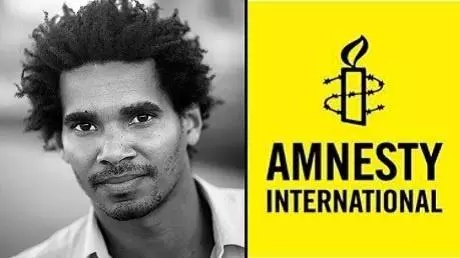 Amnesty International names Otero Alcantara a prisoner of conscience. Amnesty International on Friday named artist and leader of the San Isidro Movement, Luis Manuel Otero Alcantara, a prisoner of conscience.
"Luis Manuel should not spend one more day in state custody. He has been deprived of his freedom solely for expressing himself peacefully and must be released immediately and unconditionally. It is time for the Cuban authorities to recognize that they cannot silence all independent voices in the country. Luis Manuel is not alone: many in the international community support his work as a human rights defender and as an artist fighting for freedom of expression," said Erika Guevara Rosas, Amnesty International's Americas Director.
🇨🇺 El artista y defensor de #DDHH @LMOAlcantara es un preso de conciencia, no debe pasar ni un día más bajo la custodia del estado. Ha sido privado de su libertad únicamente por expresarse pacíficamente y debe ser liberado inmediatamente y sin condiciones https://t.co/raNesptN5g

— Erika Guevara-Rosas (@ErikaGuevaraR) May 21, 2021
According to information obtained by Amnesty International, Luis Manuel has been in hospital, under the supervision or control of state security officials and with very restricted visits from his immediate family, for the past three weeks.
"He does not appear to have access to his phone or to the outside world. While deprived of his liberty, Luis Manuel Otero should receive medical care of his choice, receive regular visits from family and friends, not be tortured or otherwise ill-treated, and have access to lawyers of his choice," the statement said.
Amnesty International has called Luis Manuel a prisoner of conscience on two previous occasions, when he was detained solely for peacefully exercising his freedom of expression. He and other members of the San Isidro Movement, as well as allies and journalists, have been subjected to constant and terrifying surveillance, which Amnesty International's Digital Verification Corps and researchers documented in December 2020.