Videos of symposiums, conferences, interviews and debates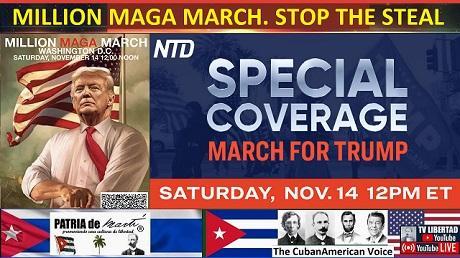 Special LIVE Coverage of Marches for Trump. Saturday, Nov. 14 starting at 12:00 p.m. ET. Events include the Million MAGA March, Stop the Steal, and March for Trump.
This Saturday November 14th, 2020 at 12 p.m. in Washington D. C., is the Million MAGA March in favor of America's democracy, the defense of the integrity of the vote and in support of President Trump. In these times when the enemies of liberty are intent on stealing the elections and destroying the land of Lincoln, today more than ever we must say present and defend the Republic. If you can´t assist in person, please join us via remote.
The event can be viewed through the following platforms:
T V Libertad (YouTube Channel)
(https://www.youtube.com/watch?v=SV8c0ruX5_c)
Facebook Live Patria de Martí
(https://www.facebook.com/PatriadeMarti/posts/2829703823980509)
Twitter (@JulioMShiling)
(https://twitter.com/JulioMShiling">https://twitter.com/JulioMShiling)