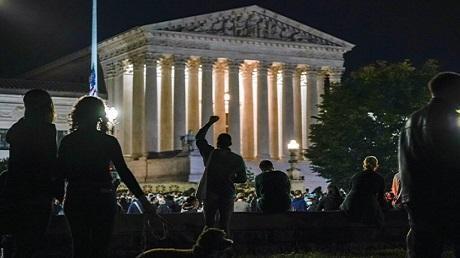 Far-left going wild over Trump nominating a SCOTUS judge. Talks Of New Supreme Court Appointment Prompt Violent Threats From Left-Wing Activists.
People gather at the Supreme Court in Washington, Saturday night, Sept. 19, 2020, to honor the late Justice Ruth Bader Ginsburg, one of the high court's liberal justices, and a champion of gender equality. (AP Photo/J. Scott Applewhite)
The possibility of President Trump potentially appointing another Supreme Court justice has prompted the left to make threats.
Democrat lawmakers, members of the media and Hollywood figures took to social media Saturday, where they appeared to urge citizens to commit violent crimes and riot to stop the administration from filling the seat of the late Ruth Bader Ginsburg.

One exchange included calls from a Canadian political science professor, Emmet Macfarlane, who encouraged people to "burn Congress down before letting Trump try to appoint anyone."
Macfarlane is a professor at @UWaterloo, promoting violence against his political enemies. If you were a young woman in his class who was a Trump supporter, would you risk being a target of his violent rage if he found out about you? Should you transfer to a different class? pic.twitter.com/wftvjI0OKA

— Ezra Levant ? (@ezralevant) September 19, 2020
A Canadian attorney later shared his concerns over the professor's message. He asked, "If you were a Trump supporter in his class, would you risk being a target of his violent rage if he found out about you?"
American writer Beau Willimon suggested shutting the country down if President Trump and Senate Majority Leader Mitch McConnell try to "ram through an appointment before the election."
We're shutting this country down if Trump and McConnell try to ram through an appointment before the election.

— Beau Willimon (@BeauWillimon) September 18, 2020
According to Washington Post writer Laura Bassett, riots will happen on a larger scale if the vote goes through.
Some far left members of Congress have also called for action, including Rep. Alexandria Ocasio-Cortez. On social media, she called for all Americans to vote for Joe Biden, even if they don't agree with him.
Here's what we're NOT gonna do: give up.

We don't give up when people need us most. That's not who we are.

Our democracy is at a faint heartbeat; it was broken even before Trump. But so long as we can save lives, I believe we have an obligation to do so as we build a new world. pic.twitter.com/QBGqflpihC

— Alexandria Ocasio-Cortez (@AOC) September 19, 2020
With the election less than two months away, Republicans and Democrats continue to debate whether or not the seat should be filled before the election.
Meanwhile, President Trump has reaffirmed Republicans have an obligation to fill the vacancy without delay.