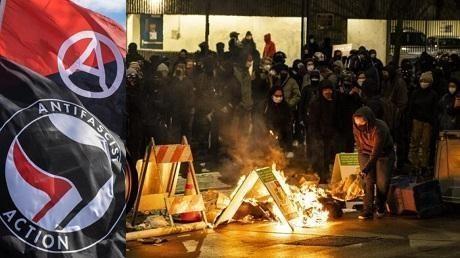 Antifa activists on Sunday night traveled to Tacoma, Washington, to violently demonstrate after a police officer struck at least one person the previous evening.
Video footage and photographs showed activists with the far-left, anarcho-communist network setting fires in the street and smashing windows at businesses in Tacoma, a town of about 212,000 approximately 30 miles southwest of Seattle.
Pegged at over 100, the crowd marched around the downtown area. Police officers eventually responded after demonstrators began breaking windows.
At least one Antifa flag was spotted in the crowd and members donned the distinctive all-black clothing the network is known for. A number carried black umbrellas, which Antifa uses to spar with police officers.
"No cops, no prisons, total abolition!" the crowd chanted. The chant is common for Antifa, which opposes many aspects of the criminal justice system. There were also chants of "Black Lives Matter" and "Free them all" as the crowd passed by the Pierce County Jail.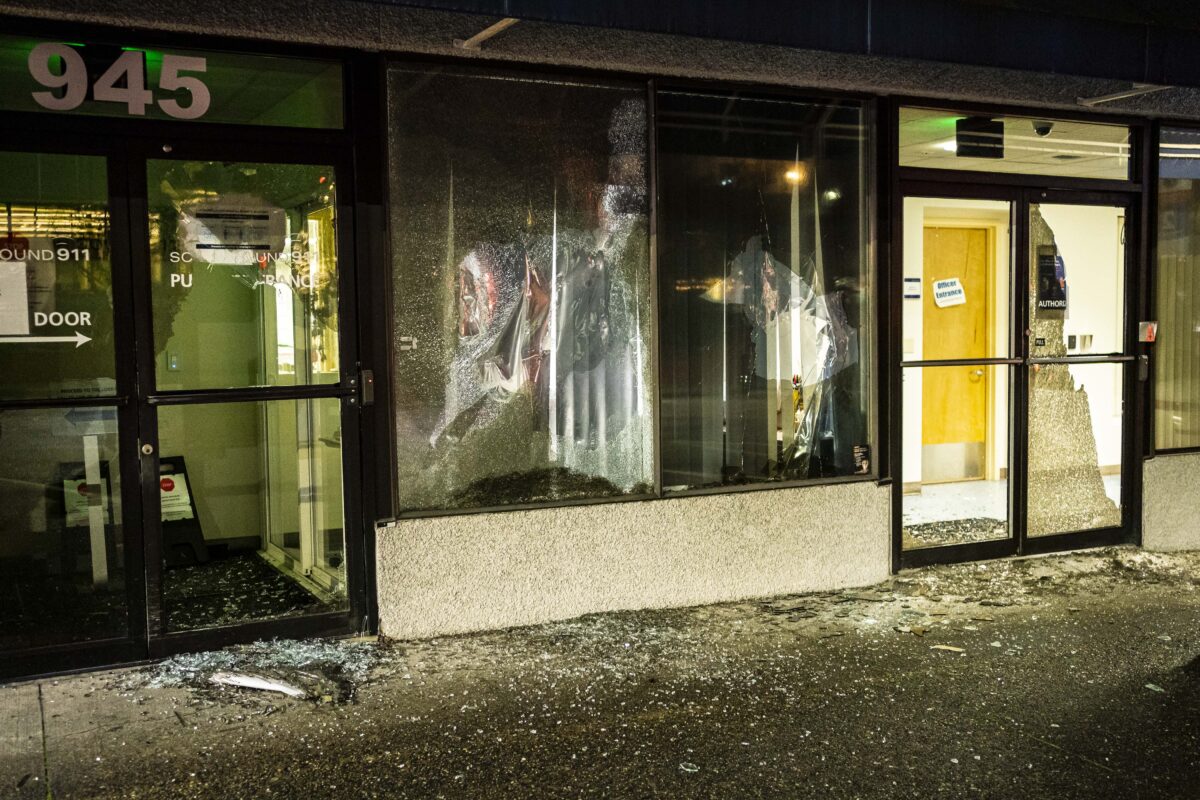 Broken windows are seen at South Sound 911 during a violent demonstration in Tacoma, Wash., on Jan. 24, 2021. (David Ryder/Getty Images)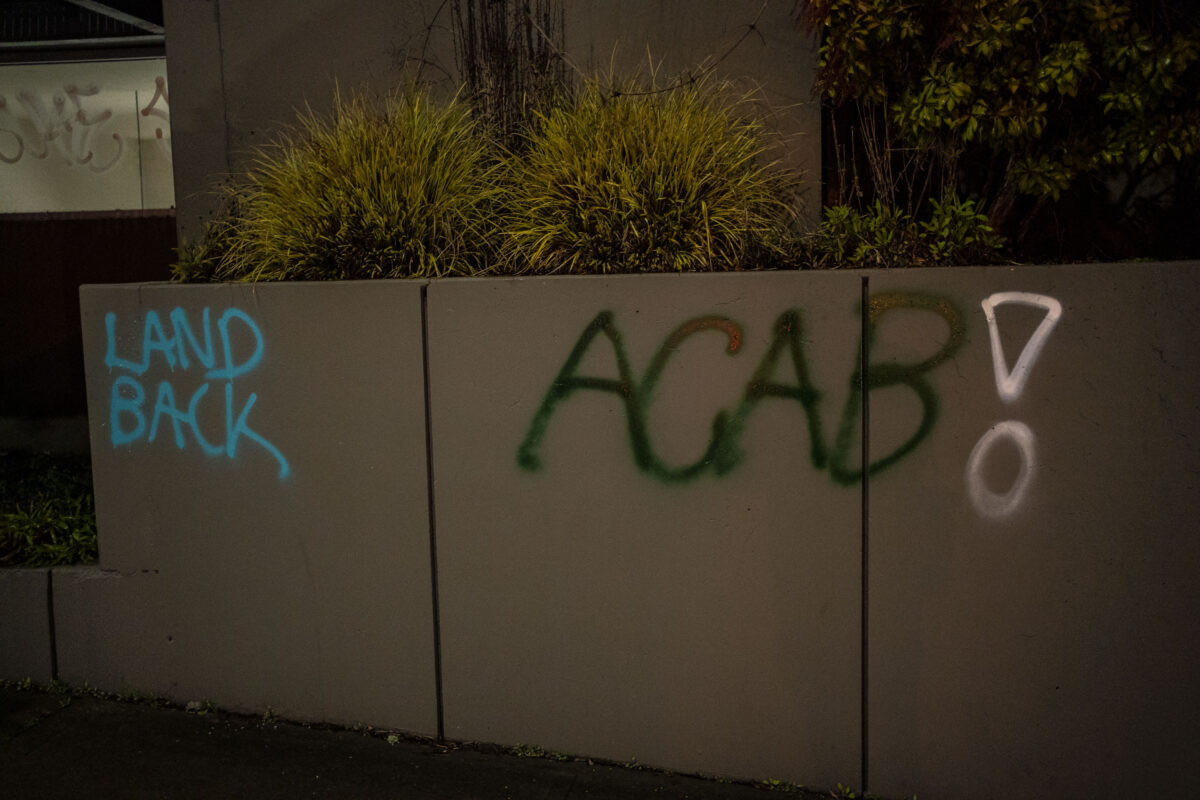 An Antifa slogan is scrawled on the County-City Building in Tacoma, Wash., on Jan. 24, 2021. (David Ryder/Getty Images)
Videos showed the crowd starting fires in the street and chasing away a preacher who was speaking into a megaphone.
The Tacoma Police Department said officers, while monitoring the demonstration, responded to a tip of three people being inside a secure building on Commerce Street. Officers responded and arrested two people armed with a handgun and knives. The third person got away.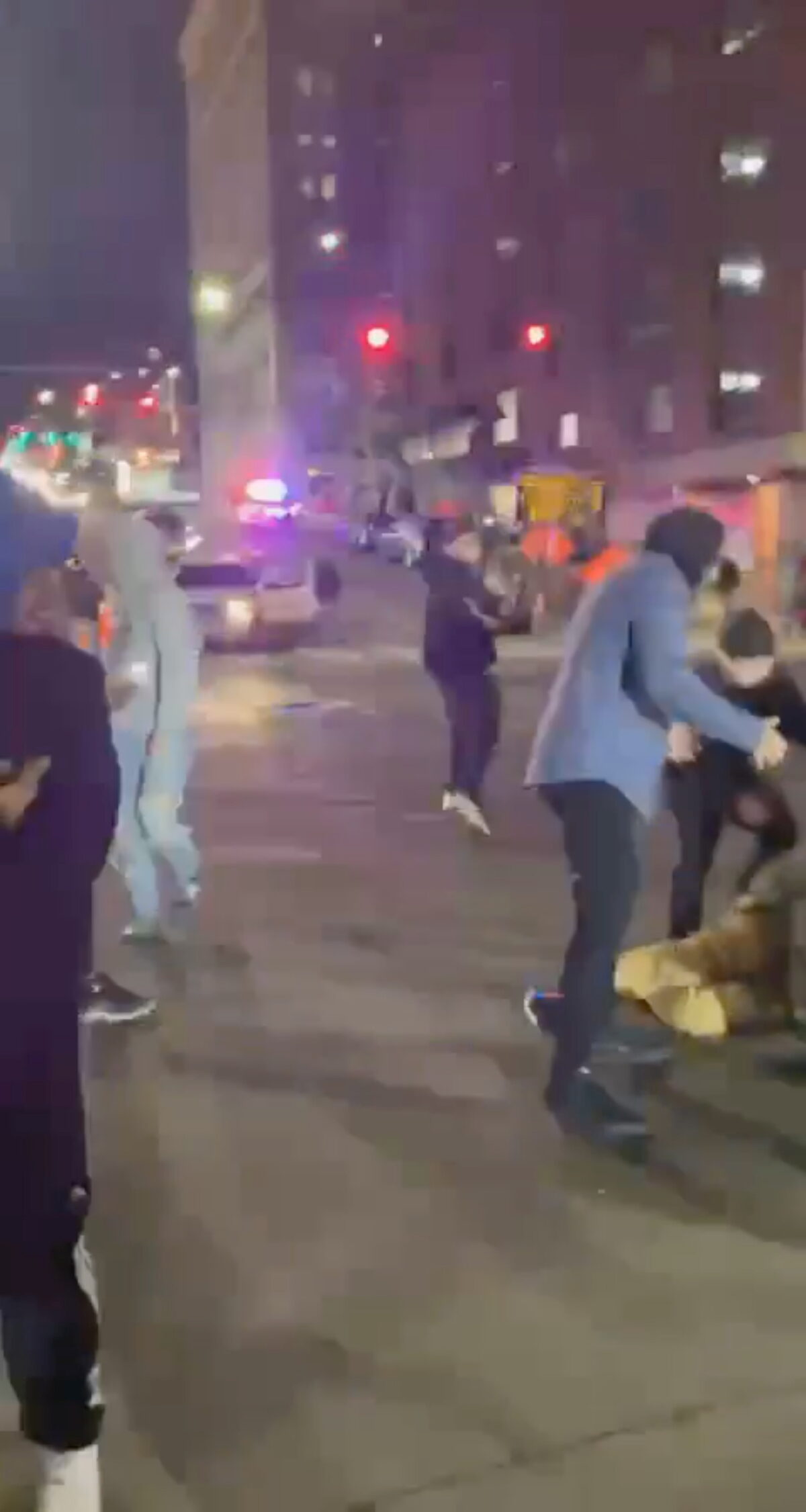 A person lies on the ground after a police officer drove a vehicle into a crowd in this still image taken from social media video in Tacoma, Wash., on Jan. 23, 2021. (Cory Le via Reuters)
Just before midnight, the demonstration broke up and roadways were clear, police said. "There are no known injuries in relation to the demonstration. Thank you for your patience," the department stated.
Demonstrations started Saturday after police officers responded to a street racing scene that was blocking an intersection around 6:19 p.m. One officer's vehicle was surrounded.
"The officer, fearing for his safety, tried to back up, but was unable to do so because of the crowd. The officer had his lights and sirens activated. While trying to extricate himself from an unsafe position, the officer drove forward striking one individual and may have impacted others. The officer stopped at a point of safety and called for medical aid. One person was transported to an area hospital. That person's condition is, at this time, unknown," the department said in an incident report.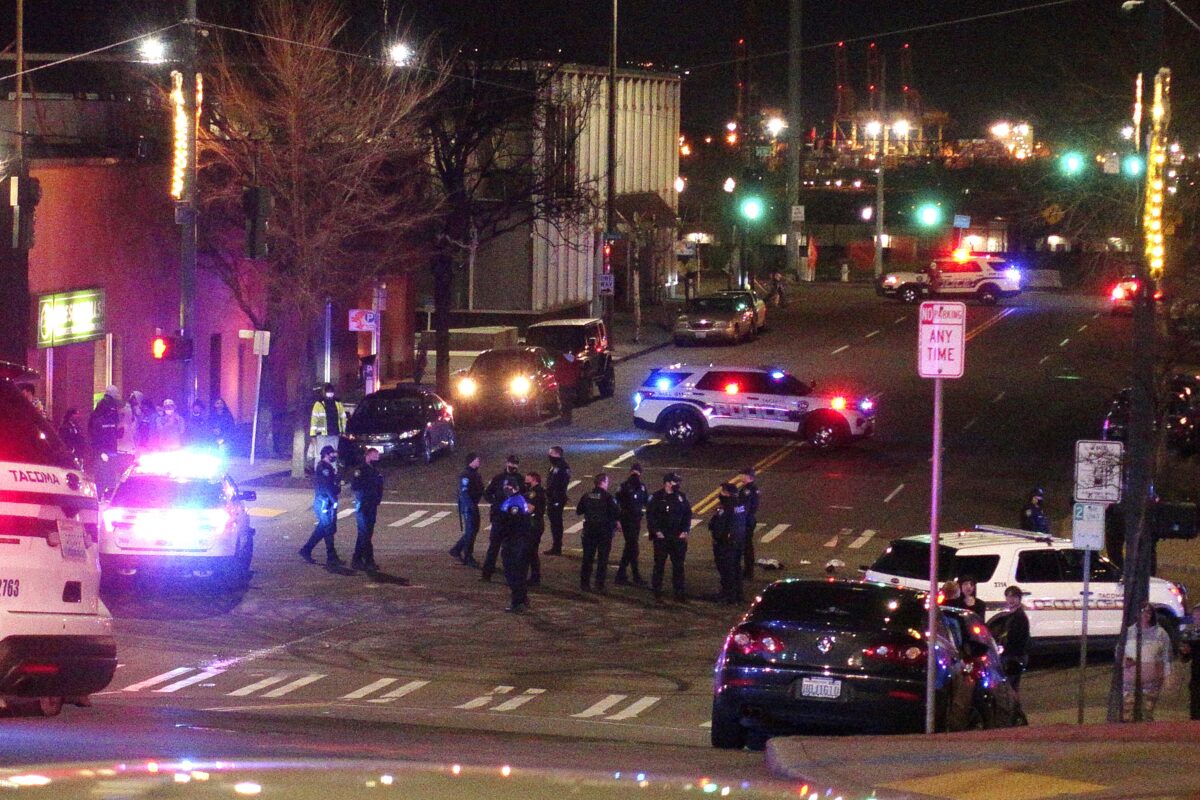 Tacoma Police and other law enforcement officers stand in an intersection near the site of a car crash in Tacoma, Wash., on Jan. 23, 2021. (Ted S. Warren/AP Photo)
The investigation was turned over to the Pierce County Force Investigation Team. The officer, a 58-year-old male, was placed on paid administrative leave.
Mayor Victoria Woodards said Sunday in a statement: "For those who woke up this morning feeling outrage, frustration, grief, heartbreak, or confusion, I understand and honor your feelings. I, too, am deeply saddened by what we saw last night."
The deadly use of force incident is being treated seriously, the mayor said. She called on the city manager and police chief to make sure everyone is held accountable.
"I continue to be proud of Tacoma's long-standing reputation as a place of strong, non-violent advocacy and activism. I continue to support your right to use your voice to advocate and demonstrate peacefully during this time of heightened tension," she added.
The Community's Police Advisory Board is holding a virtual meeting on Monday night to discuss the use of force incident.
Demonstrators on Sunday said they saw video of the officer driving into a crowd.
"They feel like they can do whatever they want and just run over people," one man, Anthony, told the Tacoma News-Tribune. "It's just not right."
"There needs to be complete police reform," a second protester, V, added. "It's a whole lot that needs to change."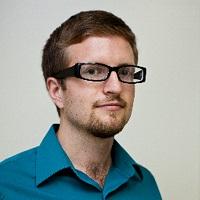 Autor: Zachary Stieber. Reporter @EpochTime. Follow Zachary on Twitter: @zackstieber