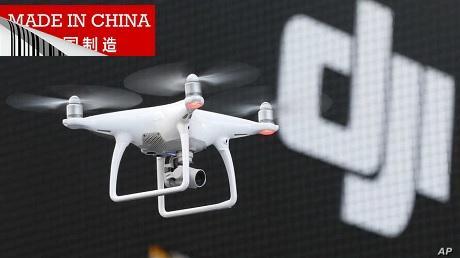 Trump Signs Exec Order Against Drone Attacks to prevent the U.S. federal government from using drones manufactured by foreign adversaries, including China.
President Donald Trump signed an executive order on Jan. 18 to prevent the U.S. federal government from using drones manufactured by foreign adversaries, including China.
Drones, also known as unmanned aircraft systems (UAS), have been used increasingly across all levels of the U.S. governments for tasks including assisting law enforcement and supporting natural disaster relief efforts, the executive order explained.
"Reliance on UAS and components manufactured by our adversaries, however, threatens our national and economic security," the president said in the order, warning that information collected by drones could be "accessed by or transferred to foreign adversaries."
These components include sensors, cameras, software, and artificial intelligence technologies.

Therefore, Trump said U.S. taxpayers' money should not be used to fund federal procurement of drones that "present unacceptable risks and are manufactured by, or contain software or critical electronic components from, foreign adversaries."
Under the executive order, all heads of U.S. government agencies need to submit a report—including information such as the manufacturer of the drones they own or operate—to the Director of National Intelligence (DNI) within 60 days.
DNI, after reviewing these reports, will have 180 days to submit a report to the U.S. President. The report will include steps that need to be taken to address the security risks posed by these foreign drones, including their removal from federal use.
The Director of the Office of Management and Budget shall then work with different agencies to identify possible funding to replace the existing drones.
Aside from China, the executive order also named Iran, North Korea, and Russia.

A drone flies during a product launch event at the Brooklyn Navy Yard in New York City, on Aug, 23, 2018. (Drew Angerer/Getty Images)
Under close scrutiny are drones made by DJI, a private company headquartered in the southern Chinese city of Shenzhen and the world's biggest maker of commercial drones.
According to data by market researcher Drone Industry Insights, DJI had a U.S. market share of close to 77 percent as of October 2019, followed by U.S. tech giant Intel with 3.7 percent.
In August last year, U.S. think tank the Heritage Foundation highlighted security flaws within DJI drones in a report, explaining how data collected by the drones could fall into the hands of the Chinese Communist Party (CCP).
DJI was one of the Chinese entities hit with U.S. sanctions in December last year, when the U.S. State Department said the company provided "high-technology surveillance equipment" to the Chinese regime in violation of human rights.
One area that DJI drones have been used in the United States is the fight against the spread of the CCP (Chinese Communist Party) virus, commonly known as the novel coronavirus.
Last April, DJI wrote on its website that it distributed 100 drones to 45 police, fire, and public safety organizations in 22 states as part of its disaster relief program against COVID-19. One of the police departments identified was the Daytona Beach Police Department in Florida.
In a tweet on April 7 last year, the Daytona Beach Police Department stated that DJI loaned two drones to the police force as part of the program. The police said that it had flown the drone to local public parks, using the drone's speaker to tell people to leave because parks were closed due to COVID-19.
Days later, on April 18, 2020, Sen. Rick Scott (R-Fla.) took to his Twitter account to voice his disproval of how DJI drones were being used to fight the pandemic in the United States.
The senator wrote: "This virus originated in Communist China and the Chinese Communist Party's lies helped it spread around the world.
"Now we're using drones made by a Chinese company and backed by the CCP to enforce social distancing. This is crazy!"
After DJI was hit with U.S. sanctions, Scott issued a statement welcoming the Trump administration's decision on Dec. 18 last year.
"We can no longer turn a blind eye to Communist China and allow their technology into some of the most critical operations of the U.S. Government," Scott stated.
The U.S. Army, Pentagon, and Department of Interior have banned and grounded Chinese-made drones over spy risks.
Author: Frank Fang @HwaiDer, is a Taiwan-based journalist. He covers news in China and Taiwan. He holds a Master's degree in materials science from Tsinghua University in Taiwan.