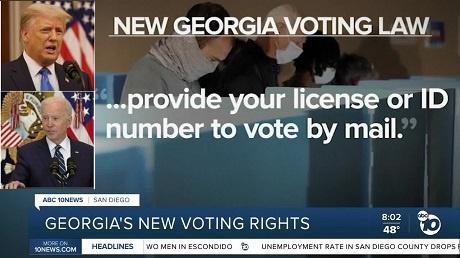 Trump praises new Georgia election law, Biden criticizes it.
Former President Donald Trump has praised the efforts of lawmakers in Georgia, U.S., for passing a historic election integrity bill, which he said should have been done sooner.
"Congratulations to Georgia and the Georgia State Legislature for changing their Rules and Regulations for voters," Trump said in a statement issued through Save America PAC on Friday, March 26.
"They learned from the travesty of the 2020 presidential election, which cannot be allowed to happen again. Too bad these changes couldn't have been made sooner!" he said.

Trump's remarks come after the Republican-sponsored Election Integrity Act of 2021, a sweeping election bill, passed the Georgia state House and Senate and Gov. Brian Kemp (R) signed it into law on Thursday, March 25.
"I was proud to sign S.B. 202 into law to ensure that elections in Georgia are secure, fair and accessible. I appreciate the hard work of the members of the General Assembly to make it easy to vote and hard to cheat," Kemp announced in a tweet.
The new law seeks to eliminate fraud, ensure the integrity of elections by enforcing compliance statewide, restricting drop boxes, expanding in-person voting and boosting voter ID, among other reforms. It requires a Georgia driver's license or a state-issued or state-approved ID to vote absentee by mail.
The law would even prevent people from approaching others in a voting line, even to "offer water."
In his reaction, President Joe Biden criticized the state's restrictive voting law, saying it "is an atrocity."
"The idea - if you want any indication that it has nothing to do with fairness, nothing to do with decency - is that they passed a law that says you can't offer water to people standing in line while they're waiting to vote. You don't need anything else to know that this is nothing more than a punitive design to keep people from voting. You can't provide water to people who are about to vote. Don't tell me," Biden told reporters Friday.
In another statement issued by the White House Friday afternoon, Biden added that the law is a blatant attack on the Constitution and good conscience.
"This is Jim Crow in the 21st century. It must end. We have a moral and constitutional obligation to act," Biden said.
The Georgia governor defended his decision, arguing that Chairman Biden and his staff may not have read the law, The Hill reported.
"There is nothing 'Jim Crow' about requiring a photo or state-issued ID to vote absentee; all Georgia voters are already required to do so when they vote in person," Kemp said, explaining that the legislation he signed "expands access to voting, streamlines vote-counting procedures and ensures the integrity of elections."
"President Biden, the left and the national media are determined to destroy the sanctity and security of the ballot box," Kemp continued. "It is obvious that neither President Biden nor his handlers have actually read" the new law.
Authored by Dan Knight-BLes.com