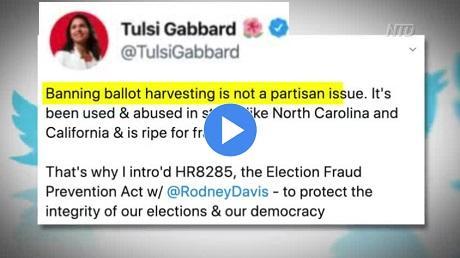 Gabbard: Election Fraud a 'Serious Threat'"
Rep. Tulsi Gabbard (D-Hawaii) has put forward a bipartisan bill aiming to improve the security of vote-by-mail. It proposes to incentivize states to ban ballot harvesting. Here's the latest on the 2020 U.S. presidential election coverage.
Tulsi Gabbard (D-Hawaii) on Sept. 19 echoed President Donald Trump's concerns about the risk of election fraud regarding mail-in ballots, calling it a "serious threat" as she announced her new bipartisan legislation that seeks to outlaw ballot harvesting.
In announcing the legislation, which is being co-sponsored by Rep. Rodney Davis (R-Ill.), Gabbard raised concerns about the practice that permits a third party to collect and return multiple ballots, saying the risk presented is not a partisan issue.

Continue Reading …Gabbard: Election Fraud a 'Serious Threat'