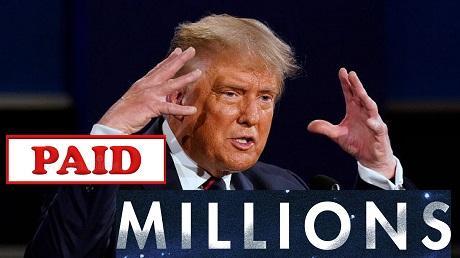 Trump paid millions not 750 dollar. The New York Times Is Wrong — Trump Paid Millions in Taxes in 2017.
Trump paid millions not $750. The New York Times' claim that President Donald Trump paid just $750 in federal income taxes in 2016 and 2017 is wrong, based on a flawed understanding of how taxes are paid.
The figures below, drawn from the New York Times's own analysis of Trump's tax-return data for 2017, show that Trump paid $7,435,857 in taxes in 2017.
The Timessays the tax return data show that Trump's earnings were negative for the year, so he owned nothing in regular income taxes. But he was subject to the Alternative Minimum Tax (AMT), a parallel tax system aimed at making sure wealthy people cannot use deductions to eliminate their tax liability altogether. According to the Times, "the A.M.T. formula disallowed $45 million in losses that Mr. Trump had carried over from prior years."

Continue Reading …Trump paid millions not 750 dollar