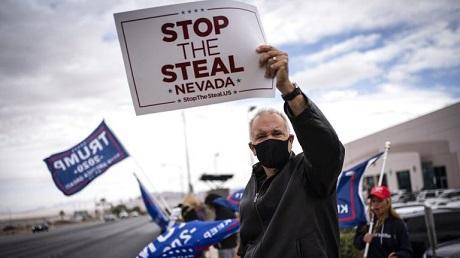 Voters holding "stop the steal" mass rallies.
As questions of election legitimacy continue, voters are holding demonstrations where they are demanding answers, transparent investigations and for Democrats to "stop the steal."

Day 2 going strong at the Harrisburg Capitol Building. #StopTheSteal pic.twitter.com/YT5humy5w1

— #ThePersistence (@ScottPresler) November 6, 2020
In Nevada's Clark County, voters have been gathering outside of the courthouse for days after numerous allegations of voter fraud surfaced after the state was reportedly called for Joe Biden.
"Biden has not won the election, all of the legal ballots have not been counted," said Michelle Gregoire, a voter from Battle Creek, Michigan. "There's been multiple cases of voter fraud happening throughout the entire state of Michigan."
The Clark County Registrar of Voters, Joe Gloria, said his team is actively going after allegations of voter fraud. He promised to resolve any and all issues brought before him.
"We have sent information to the secretary of state, they have an investigative team, they are currently looking to quite a few things," he stated. "For those folks in the general public, we have the data so if there's anything that's been done illegally, unfortunately, we're going to find it."
Gloria also said the county is prepared for a recount if either candidate requests one, adding that an official request can be filed after the vote tally is finalized.
Meanwhile in the Wolverine State, Michiganders are equally as frustrated and held a protest over the weekend outside of the state capitol building in Lansing.
The President's campaign has filed a lawsuit in Michigan claiming that election officials prevented their poll watchers "meaningful access" and would not allow them to oversee the counting process on election night or the days after.
Several issues arose during that time, including technical "glitches" with the election software used in 69 of the states 83 counties. The Dominion Voting Systems reportedly "glitched" in favor of Joe Biden in key parts of the state. As it turns out, key members of Dominion have ties that go back to Hillary Clinton.
Further claims of human error have been cited, notably in Antrim County where no one in the election office updated the software used to record ballots. This led to thousand of ballots wrongly going to Biden.
Voters have argued the "mishap" was malicious and that the numerous instances of irregularities, all apparently in Biden's favor, amount to widespread fraud.