Video Shows Election Workers Producing Ballot Suitcases in GA. Georgia Video Footage Allegedly Shows Poll Workers Staying Behind, Producing 'Suitcases of Ballots'.
Georgia election officials say the video doesn't show anything nefarious
President Donald Trump's legal team on Dec. 3 presented surveillance footage at a Georgia state legislature hearing that appears to show ballot-counting workers telling poll observers late at night on Election Day to leave before continuing to count and pulling out what appears to be suitcases filled with ballots.
A spokesperson for Fulton County, in an email to The Epoch Times, did not dispute the authenticity of the video.

In the hearing on Dec. 3, Jacki Pick, a lawyer who is volunteering with the campaign's legal case, said the team received video footage from State Farm Arena's vote-tabulation center in Fulton County, Georgia. The team said that GOP poll watchers weren't allowed to watch the counting process in the poll center.
According to Pick, an unusual occurrence took place later in the evening at around 10 p.m. local time. A woman—described as a blonde woman with braids—told workers to stop counting and notified everyone to go home.
Describing the video footage, Pick said, "Everyone clears out, including the Republican observers and the press, but four people stay behind and continue counting and tabulating well into the night." The four counted unobserved until about 1 a.m.
Pick said that video footage shows Fulton County election workers waiting at their scanning areas until GOP poll watchers and reporters left the room before they started "scanning ballots," ostensibly without any observation. Pick noted that this contravenes state and county law.
WATCH: Footage of State Farm Arena in #Atlanta shows that after poll monitors and media were told counting was done, four workers stayed behind to count #ballots, at times pulling out suitcases containing ballots from underneath desks.

Watch full video: https://t.co/EHnM5HZFWj pic.twitter.com/xuT8Svgxbr

— The Epoch Times (@EpochTimes) December 3, 2020
At 11 p.m., once everyone was gone, the workers are seen "pulling ballots out from underneath a table." At the hearing, Pick asked rhetorically whether it's normal to "store suitcases of ballots under a table cloth." She said after reviewing footage that it's not a normal procedure.
Georgia elections officials have since said those were not suitcases but container boxes that are used to store ballots.
Gabriel Sterling, the head of Georgia's voting system implementation manager, told media outlets after the footage was released that "if you look at the video tape, the work you see is the work you would expect, which is you take the sealed suitcase looking things in, you place the ballots on the scanner in manageable batches and you scan them." And Frances Watson, chief investigator for the Georgia secretary of state, also disputed the claim that ballots were pulled from under a table: "There wasn't a bin that had ballots in it under that table. It was an empty bin and the ballots from it were actually out on the table when the media were still there, and then it was placed back into the box when the media were still there and placed next to the table."
"To date, we are aware of no credible reports of voter fraud or wrongdoing in Fulton County. Any credible report of such activity will be investigated and addressed as provided by Georgia law," a spokesperson for Fulton County told Epoch Times.
Also unclear is whether election workers knew they were being recorded. The footage was taken by security cameras belonging to State Farm Arena.
Pick further alleged that the same woman with the blonde hair in braids, presumably the manager, had placed the table there earlier. It's not clear where those ballots came from, and it's not clear when the purported suitcases of thousands of ballots were placed under the table. Whether they're suitcases or a special carrier for ballots also isn't clear.
Witnesses have sworn in affidavits that the counting continued until the early morning hours, Trump's team said.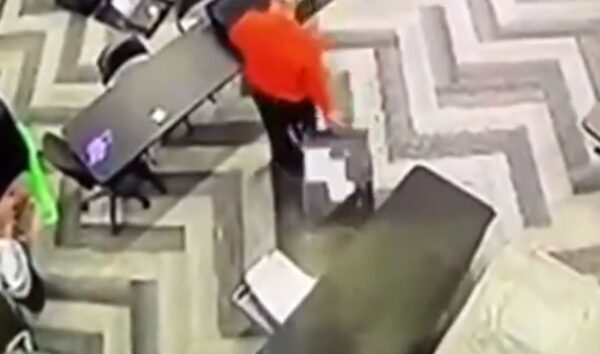 A man is seen carrying a suitcase allegedly filled with ballots without poll challenger supervision on the night of Nov. 3, 2020. (NTD screenshot – State Farm Arena surveillance)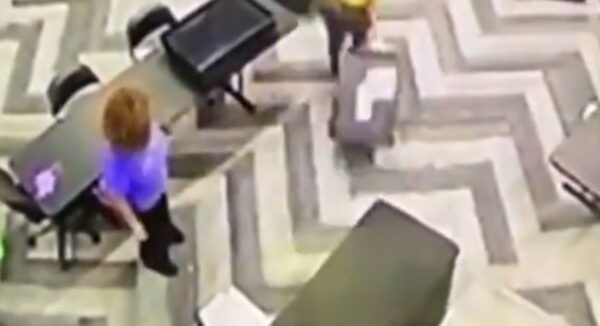 A woman is seen carrying a suitcase allegedly filled with ballots without poll challenger supervision on the night of Nov. 3, 2020. (NTD screenshot – State Farm Arena surveillance)
"Why are they counting them when the place is cleared out with no witnesses?" Pick said.
She argued that the number of ballots there is "beyond the margin of victory" in the presidential race. Three scanners—which can carry out several thousand ballot processes per hour—are believed to have been working for several hours until the early morning hours, she said.
According to a Michigan government copy of "Dominion Functional Requirements," certain Dominion devices can process up to 4,900 11-inch ballots per hour, while some can process 3,600 per hour, and others can produce between 360 to 455 ballots per hour. Dominion machines are used in Fulton County.
President Donald Trump said on Twitter that the video is significant evidence showing voter fraud.
"Wow! Blockbuster testimony taking place right now in Georgia," Trump wrote. "Ballot stuffing by Dems when Republicans were forced to leave the large counting room. Plenty more coming, but this alone leads to an easy win of the State!"
In the hearing, it was noted that officials cleared out State Farm Arena on election night, allegedly due to a pipe break. Pick and other members of Trump's team said it's not clear whether this was the reason why poll workers and members of the press were kicked out.
Georgia Secretary of State Brad Raffensperger, a Republican, told reporters this week that Fulton County "cut corners" during the second recount. Officials with the secretary of state's office said last month that they were seeing "managerial sloppiness" and "chain of custody" issues in the county.
Fulton County Board of Commissioners Chairman Rob Pitts challenged the criticism during a public hearing on Dec. 3, saying he would give the county "an A+" for how it handled the election.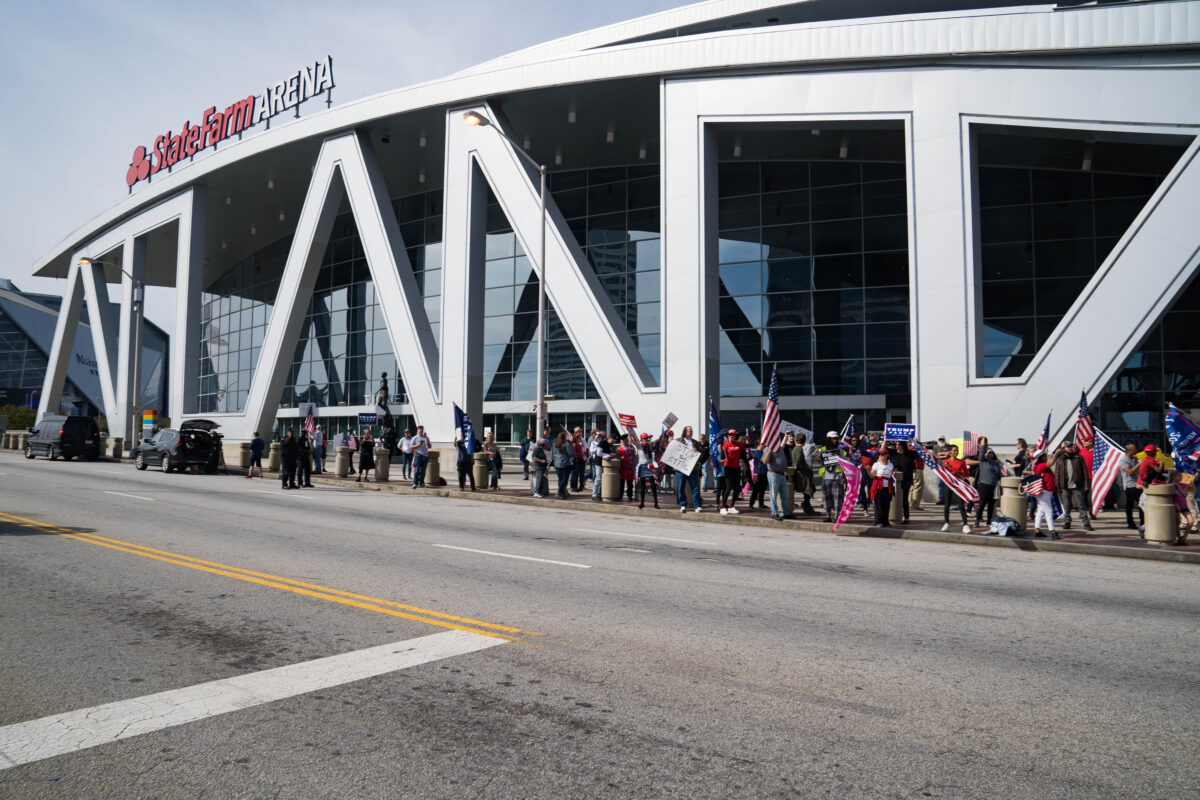 Supporters of President Donald Trump protest outside State Farm Arena as ballots continue to be counted inside on Nov. 5, 2020, in Atlanta. Attention is focused on a few key battleground states as the U.S. presidential election remains too close to call. (Photo by Megan Varner/Getty Images)
In early November, a Fulton County spokeswoman told The Epoch Times via email that officials were "not aware of direction given to any observers to leave."
Registration and Elections Director Richard Barron said that when he learned that staff were dismissed at 10:30 p.m., he advised that some workers needed to continue.
"Based on that directive, a smaller crew continued to work through the night. It may be possible that observers left at the time the majority of the staff left, but from the information we have, the processing area was never closed to observers," the spokeswoman added.
Georgia Republican Party Chair David Shafer said Fulton County officials "falsely announced that the counting of ballots would stop at 10:30 p.m."
"This video proves our allegation—that they continued counting ballots in secret until 1:00 am," Shafer wrote in a tweet on Dec. 3.
Zachary Stieber contributed to this report.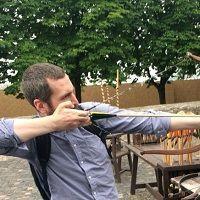 Author: Jack Phillips, Senior reporter
Jack Phillips, is a reporter at The Epoch Times based in New York. @jackphillips5

Read full article on THE EPOCH TIMES