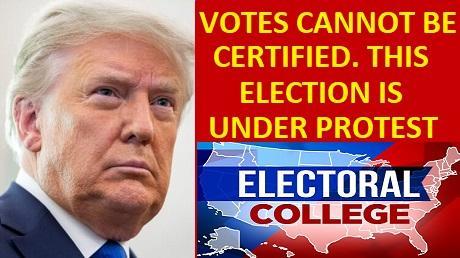 Trump: VOTES CANNOT BE CERTIFIED. THIS ELECTION IS UNDER PROTEST! Ahead of Electoral College Vote.
President Donald Trump has doubled down on his resolve to challenge the 2020 election results a day before more than 500 presidential electors are scheduled to meet and cast their ballots for the next president of the United States.
"Swing States that have found massive VOTER FRAUD, which is all of them, CANNOT LEGALLY CERTIFY these votes as complete & correct without committing a severely punishable crime," Trump wrote in a series of posts on Twitter.
The president continued by listing out the types of election fraud he believes allegedly occurred in a number of contested states including Michigan, Pennsylvania, Wisconsin, and Georgia.
"In all Swing State cases, there are far more votes than are necessary to win the State, and the Election itself. Therefore, VOTES CANNOT BE CERTIFIED. THIS ELECTION IS UNDER PROTEST!" he added.

All 538 electors convene in state legislatures to formally cast their votes for president on Monday. Trump, his allies, and a number of third-parties have filed a slew of lawsuits in an attempt to de-certify the election results in multiple battleground states, asking judges to prevent presidential electors in those states from taking any official action until all allegations of fraud are transparently and independently addressed.
According to witness and expert testimony that emerged recently, it's possible that a significant proportion of votes were cast and counted in violation of state election codes and the U.S. Constitution.
Allegations about election fraud have been repeatedly denied by officials, while critics and members of the media have characterized the claims as "baseless."
Meanwhile, many of these cases have been tossed out by judges for procedural reasons, such as lack of standing to bring a case; lack of jurisdiction to hear the case; mootness, where there is no longer a controversy between the parties; and laches, where a judge ruled there was a lack of diligence in bringing a claim. Other judges are not convinced by the allegations presented.
One of these cases—State of Texas v. Commonwealth of Pennsylvania, State of Georgia, State of Michigan, and State of Wisconsin—was filed in the U.S. Supreme Court earlier this week. The state of Texas had asked the top court for permission to sue the four states over allegations that they violated the Constitution and treated voters unfairly in their handling of the 2020 general election.
The nation's top court late Dec. 11 handed down an order rejecting Texas's request, citing a lack of legal standing to sue. The evidence in the case wasn't considered in the court's decision.
Meanwhile, some of the lawsuits ask judges to order state legislatures to seat their own electors but this effort has not gained any support.
Trump campaign senior adviser Jenna Ellis has previously told Newsmax that she believes the president still has time to challenge the election results despite the electoral college vote. She said that Jan. 6 is the date of "ultimate significance," as that is when Congress officially counts the Electoral College votes.
"That date in January, that's the date of ultimate significance. And the Supreme Court has recognized that," she said. "We still have time, the state legislatures still have time to do the right thing. They can inquire, they can hold hearings, they can reclaim their delegates, and they should. And I hope that now all of the evidence we have brought forth in these hearings will give them the inspiration and courage that they need to act."
The Trump legal team is still planning to file new lawsuits in the coming days, which will mimic the Texas lawsuit filed in the Supreme Court. Former New York Mayor Rudy Giuliani, who is leading the campaign's legal efforts, said that the president should not have an issue of standing, which Texas had, in these lawsuits.
Author: Janita Kan is a reporter based in New York covering the Justice Department, courts, and First Amendment. @janitakan. Ivan Pentchoukov contributed to this report.
Read full article on THE EPOCH TIMES