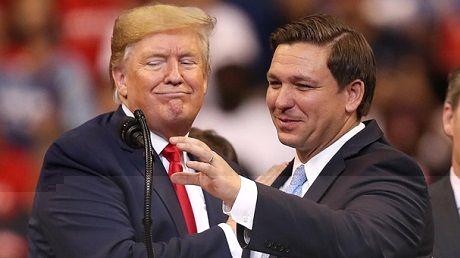 DeSantis on VP List if Trump Runs in 2024. President Donald Trump has said that he is "100%" thinking about running for reelection in 2024 and that Florida Gov. Ron DeSantis (R) would "certainly" be considered as his running mate.
President Trump discusses plans for next presidential run and potential platform.
The 45th president made the comments during a Thursday interview on Fox News's "Mornings with Maria."
Trump spoke on the morning after Joe Biden's controversial address to a joint session of Congress.

Biden's address was his most high-profile speech to the nation yet, on the eve of his 100th day in office.
Trump described Governor DeSantis as "a friend of mine" and "a great guy."
"I endorsed Ron and after I endorsed him he took off like a rocket ship," Trump continued.
"Florida Gov. Ron DeSantis has become one of the most popular governors in America"
© press
Florida Gov. Ron DeSantis has become one of the most popular governors in America
"He's done a great job as governor," Trump noted.
DeSantis has yet to publicly respond to Trump's comments.
President Trump also discussed his platform for a potential 2024 run.
He said it would include protecting the Second Amendment, the border, tax increases, and the energy industry.
WATCH:
Watch the latest video at foxnews.com
During the exclusive interview with host Maria Bartiromo, Trump blasted Biden for excluding the border crisis from his address.
"He didn't discuss the border," Trump told Bartiromo when asked what "struck" him about Biden's speech on Wednesday night.
Trump pointed out that "tens of thousands of people are pouring into our country" at "a level that has never been seen before."
He noted that those "pouring into" the U.S. include criminals and that the Biden administration "is doing absolutely nothing" to stop them.
"It's out of control," Trump said, warning that if the situation continues "it will destroy our country."
Biden has scrapped a number of President Trump's immigration policies, which included the construction of the border wall and having asylum seekers remain in Mexico instead of staying in the U.S. while they wait for their cases to be heard.
The moves have led to a record surge in migrants, including unaccompanied minors, that has strained capacity at immigration facilities in recent weeks.
"They have to finish the wall," Trump stressed.
He noted that the border wall "would have been completed if I didn't get sued by Congress and the Democrats every single moment."
Trump also pointed out that the "Remain in Mexico" policy was "a great thing," but the Biden administration "gave it up" and "now everyone is pouring into our country."
"The border has to be brought back to where I had it," Trump stressed on Thursday.
"We had it the best in the history of our country."
He also blasted Biden's energy policies, noting that the U.S. was energy independent for the first time and "we're not going to be energy independent in a couple of months."
"Your gasoline prices, look what's happening to them.
"They're going up, through the roof in a short period of time," Trump said.
"I had them down below $2 and we still had a strong energy industry.
"Now they're [the Biden administration is] laying everybody off."
"Florida Gov. Ron DeSantis (R) has yet to comment on Trump's remarks about the election"
© press
Florida Gov. Ron DeSantis (R) has yet to comment on Trump's remarks about the election
Trump pointed to Biden's energy actions, which have included the cancelation of the Keystone XL oil pipeline project.
According to a study from the State Department, 26,100 indirect and direct jobs would have come from the Keystone XL pipeline project, through its construction and supply chain that provides lodging, food, and health care to workers in small towns across several states.
In response, Biden's newly appointed "climate czar," John Kerry, pitched a new vision of a green economy, where many of the laid-off workers "can be the people to go to work to make the solar panels" as reported by Yahoo news.
Biden also temporarily suspended the issuance of oil and gas permits on federal lands and waters in a series of orders aimed at combating climate change.
Author: Jay Greenberg