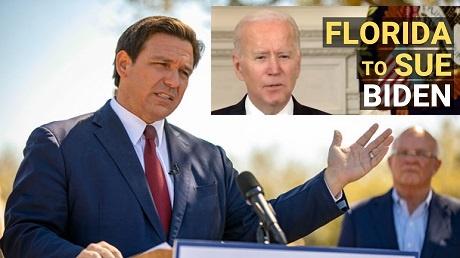 FL Suing Biden Over Covid Restrictions. Florida Gov. DeSantis Announces State Is Suing Biden Admin Over COVID Restrictions. Restrictions 'based on very little evidence and very little data'
© press
DeSantis blasted the 'outdated' no-sail order which is hurting Florida's billion dollar industry.
Florida State has filed a lawsuit against the Biden administration over draconian COVID restrictions and demands cruise ships to start sailing immediately, Gov. Ron DeSantis announced Thursday.
DeSantis blasted the "outdated" no-sail order arguing it hurts the state's billion-dollar industry, which employs tens of thousands of Floridians.
"We don't believe the federal government has the right to mothball a major industry for over a year based on very little evidence and very little data," the Republican governor said.

New guidelines were issued by the Centers for Disease Control and Prevention for how companies should respond in the event of COVID-19 cases but have not lifted its no-sail order.
Sailing was shut down by the CDC last March amid outbreaks tied to ships worldwide.
As a result, ports rejected docking plans leaving passengers and crew members stranded.
Florida is America's cruise capital and has three of the world's busiest ports which include:
- Miami
- Port Canaveral near Kennedy Space Center
- Port Everglades near Fort Lauderdale
Billions are generated from the industry for the state's economy as millions take cruises from the ports each year.
DeSantis argued the ban impacts Florida while cruising has resumed in much of the world.
There have been no new outbreaks on ships, according to Industry leaders.
"People are going to cruise one way or another," DeSantis said.
"The question is are we going to do it out of Florida, which is the number one place to do it in the world, or are they going to be doing it out of the Bahamas or other locations?"
The news comes just days after DeSantis signed an executive order banning the use of "vaccine passports."
DeSantis stated in his executive order that "vaccination passports reduce individual freedom and will harm patient privacy."
The governor has previously described vaccine passports as a "terrible" and "unacceptable" idea.
Author: Daniel Newton