"13 de Marzo" Tugboat Massacre
"13 de Marzo" Tugboat Massacre.
37 innocent Cubans were murdered by the Castro brothers' regime in the "March 13 Tugboat Massacre" perpetrated on July 13, 1994: 10 children between the ages of 5 months and 12 years, plus 27 adolescents and adults between the ages of 17 and 50.
The saddest and most shameful thing is to see how today many rub shoulders with, relate to and negotiate with the murderers and others who demand the lifting of the embargo and sanctions against the dictatorship without demanding the prosecution of those guilty of such an abominable crime.
Forbidden to forget!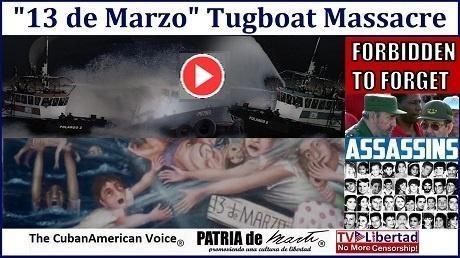 Video source:
CUBA-"Documentales e Informativos"
TV Libertad advocates freedom and democracy for Cuba and the world, within a cultural framework that is consistent with its promotion and preservation.
https://patriademarti.com
https://CubanAmericanVoice.com
Share your thoughts on this article!