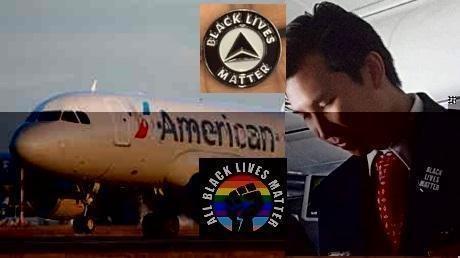 American Airlines supporting Marxist BLM. American Airlines defends 'BLM' pin on uniforms, to stand on the side of the Marxists that attack our national institutions and destroy our cities.
"I take offense to this," one flight attendant told management in an email obtained by The New York Post.
The flight attendant goes on to say that "my husband is a law enforcement officer, as was my deceased father, and as far as I'm concerned ALL LIVES MATTER."
Another flight attendant voiced concerns that staffers who refuse to wear the pin will now "be ostracized and labeled as racist."
"America is engaged in a culture war like we have not seen in decades," Justin Danhof of the Free Enterprise Project tells OneNewsNow. "American Airlines has decided to stand on the side of the Marxists that attack our national institutions and destroy our cities."
Danhof, who regularly confronts corporate bosses over their left-wing ideology, points out the BLM organization openly states it opposes the nuclear family and views law enforcement as the enemy.
"Every single American Airlines employee, shareholder, and customer should be ashamed and embarrassed," Danhof continues. "Then they should contact the company's executives to vent that frustration."
Danhof says the National Center for Public Policy Research is an investor of the company, one of many that allows the Center to attend shareholder meetings and confront executives in front of an audience.
OneNewsNow requested comment from American Airlines and asked specifically if crew members are allowed to wear pins of a religious or secular nature.
The response? The airline allows employees to wear pins to indicate their religious beliefs, including Christianity, if they are a military veteran, or their sexual orientation.
Danhof
The airline's statement went on to state:
American Airlines believes in equity and inclusion for all. Our Black team members saw the Black Lives Matter pin being worn at other airlines and companies and asked if they could do the same. In light of the appropriate attention to lives of Black Americans, we will allow team members who wish to wear a Black Lives Matter pin to do so if they choose.
Fundamentally, we believe Black Lives Matter is an expression of equality, not a political statement. It doesn't mean other lives don't matter, rather that in our society Black lives should matter and be valued the same as others. We are showing our support for our Black colleagues and customers who have experienced discrimination and injustice, not any particular organization. This decision underscores our belief that all people, regardless of race, gender or ethnicity, deserve to be treated with equality and respect.
Author: Chris Woodward comes to Engage by way of American Family News and One News Now. A Communications major, Chris began his career in television where he served as a Producer for top-rated newscasts in the Southeastern United States.
Read full article on ONE NEWS NOW
Share your thoughts on this article!