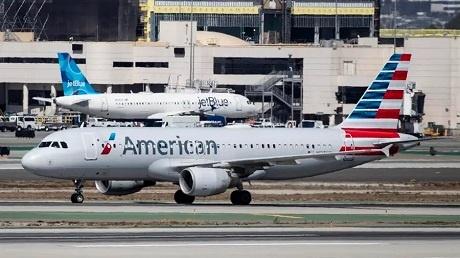 American Airlines, Castrismo's Secret Police Cuba
When you do business with communists, eventually, you lose moral autonomy. The "morality" becomes what the despots tell you.
When capitalism does business with totalitarian regimes, the private commercial entities involved become partners in crime with tyranny. American Airlines, the world's largest air passenger carrier in 2019, according to Simple Flying, is acting as Cuban communism's political police. Anamely Ramos, a Cuban art historian and member of the San Isidro Movement, was prevented from boarding a return flight to Cuba in Miami International Airport by airline personnel.
American Airlines insist that they are following the instructions given to them from Cuba. A popular program in Cuban state television, however, contradicted the Dallas/Fort Worth-based company's affirmation. During a televised segment of "Con Filo", Gabriela Fernández Álvarez, the regime's spokesperson, blamed American Airlines for the fact that Ramos was denied the ability to leave for the island. It is quite common for communist dictatorships to throw businesses under the bus when it is convenient for the narrative that they are pushing. Additionally, the rant that followed continued to contradict the facts, such as Ramos non-desire to seek asylum, nor the violation of her visa.

Continue Reading …American Airlines, Castrismo's Secret Police