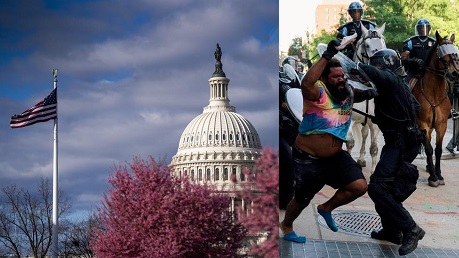 Corporate Media's Fraudulent Reporting of the Lafayette Square Riot by Marxist Rioters.
Pravda, the official media outlet for the Communist Party of the former Soviet Union, has been cloned and has metastasized itself in the American establishment media. The collapse of investigative journalism and the abandonment of the overriding principle of reporting the truth, even when it challenges ideologically held precepts, is a thing of the past in the United States. Unlike the case with Pravda and its coerced realm of production, the political activism of America's traditional means of communication, have voluntarily entered this "pravdaization" phase by political conviction.
Recent events, however, have officially debunked American mainstream press. The "fake news" credentials that former President Trump and many on the right levied upon them were brushed aside by the left as conspiracy and political talking points. A report by the Department of the Interior's Inspector General published June 9th demolished the established and false narrative of the events surrounding the 45th President's lauded visit to St. John's Episcopal Church on June 1st.
The fraudulent reporting by the American media has been exposed
Continue Reading …Corporate Media's Fraudulent Reporting of the Lafayette Square Riot by Marxist Rioters