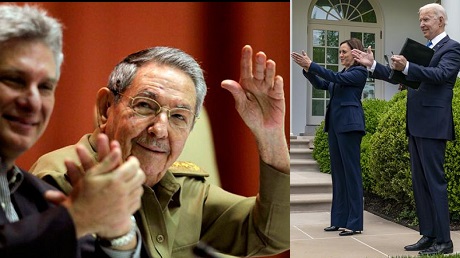 Biden-Harris' Soft Rapprochement with Castrosim.
Over two months have passed since the Cuban Uprising of July 11. On that Sunday, thousands of people in over fifty localities across the Island took to the streets to demand "Freedom" and "Down with Communism". More than five thousand individuals were either imprisoned or investigated, according to 14ymedio. A brutal crackdown ensued. There are still over five hundred and five people detained and/or disappeared, fifteen of them minors, according to Cubalex, a human rights group. What has been the Biden-Harris response? A soft rapprochement with Castro-Communism is what is in the works.
The Biden-Harris administration committed itself, on July 22, to having "study groups" recommend six different policy initiatives regarding the Cuban Uprising. Of the six, two have nothing to do with satisfying the calls for freedom and justice by the Cuban people, three are pointless as they have been tainted and are ideologically tabulated, and one is a moot point at this stage. Let us examine the irrelevant ones first.
Continue Reading …Biden-Harris' Soft Rapprochement with Castrosim