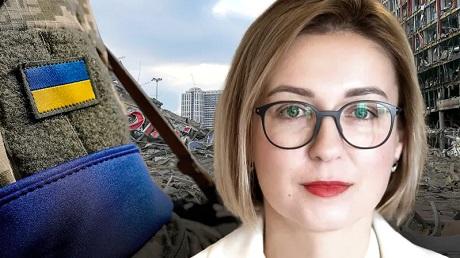 Ukrainian Deputy Inna Sovsun On Why Russia Started The War.
Inna Sovsun commended the Ukrainian resistance against the Russian invasion.
Member of the Ukrainian Parliament Inna Sovsun gave an exclusive interview with El American to talk with our contributor Julio M. Shiling about the heroic resistance of the Ukrainian Army in the face of Russia's invasion.
Inna Sovsun, who was a former minister of education and science in her country and served as vice president of the Kyiv School of Economics, says she is amazed at the strength Ukrainian soldiers have shown in the field of warfare to defend their country.
"I remember my feelings and thoughts on the first day of the war, when we heard the explosions and several hours after that, like literally five hours after we heard the explosions, we heard that the Russians were in Hostomel, which is 70 kilometers north of Kyiv," Sovsun recalled, having believed that the Russians would take Kyiv within hours.
Sovsun, proud of the Ukrainian resistance
"Magnificent things" began to happen, the Ukrainian politician says, when ordinary citizens took up arms and voluntarily set off for Hostomel to fight the invaders. "We will kill them, we will not surrender, we will fight as long as we can," they exclaimed.
Another "truly amazing" thing Sovsun has witnessed in Ukraine is that, in cities that were occupied by Russian forces, Ukrainian citizens have come out to protest their presence, to peacefully insist that they leave.
"I knew that Ukrainians are strong, I knew that they are resilient, I knew that they are stubborn, but you must realize that we are fighting a huge country, a huge army as well, even I had my doubts," the deputy expressed. "Well, not anymore. Now, I am proud to say that I am Ukrainian and we can fight, definitely."
Sovsun stresses that, although the conflict between Russia and Ukraine may seem recent, it is in fact "an ongoing battle between a European civilization and a barbarian civilization", and says she hopes that this war will help his country to take "the final step towards Europe."
"And that's what Russia fears," Sovsun continued. "That's why they started the war. For this specific reason: because they are afraid that Ukraine will move westward, not militarily, but civilizational, and putting forward those ideas that they are so afraid of."
Watch the full interview and much more exclusive content on "El American" YouTube channel, and follow El American's official networks to stay informed.
©The Cuban American Voice and "El American". All rights reserved. Reproduction is prohibited without express permission.