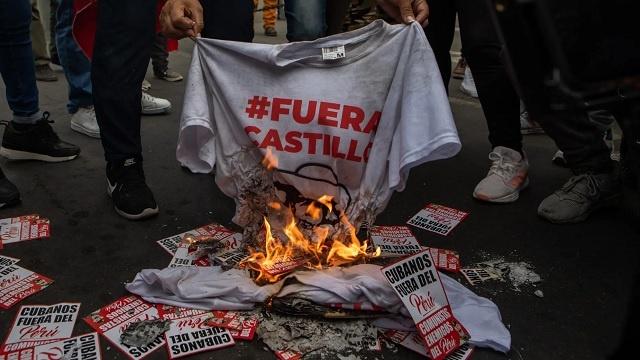 Socialism Loses and Freedom Wins in Perú.
The São Paulo Forum (SPF) dictatorial offensive, designed by communist Cuba to spread socialism throughout Latin America, suffered a big setback on Wednesday, December 7 in Perú. President Pedro Castillo attempted a coup by ordering the dissolution of Congress, initiating the installment of an "emergency" government, ordered a national curfew, and called for the revamping of the country's democratic constitution. In its place, predictably, it would be substituted with socialist legalism. The forces of freedom saved the day for Perú and potentially for the Americas.
The Peruvian congress acted swiftly after Castillo wanted to bypass an incipient congressional motion that sought to constitutionally displace him from the presidency. By a 101 to 29 clear majority vote, the legislative body reverted the Marxist former president's Bolshevik-style power grab. Additionally, the mistake made by Bolivian authorities during its 2019 liberation process was not repeated in Perú.
Castillo was quickly arrested and now faces criminal charges under the Peruvian Penal Code's Title XVI in Chapter 1 and Article 346. Acting smart and with civic determination, Perú's legitimate public forces closed off passages to the embassies of socialist dictatorial regimes like Bolivia's. The urgency with which the Peruvian Congress acted, and the complimentary measures taken to safeguard democracy, should serve as a model to challenge the SPF dictatorial model.
Colombia's Gustavo Petro, Brazil's Lula da Silva, Chile's Gabriel Boric, México's Manuel López Obrador, and Argentina's Alberto and Cristina Fernández, undoubtedly, must be in shock mode. After all, it was the FSP playbook of winning elections, proceeding to dismantle (or attempt to) democratic institutions, destroy the separation of powers, stamping out the constitution, and tolerating a sterile opposition was what provided them with a path to power. Venezuela, Nicaragua, Bolivia, and Cuba, the master planner, potentially, could lose momentum and continue to suffer reversions.
This is the moment for the U.S. to build a coalition of Western democracies and insist that the rule of law be followed. This means that Castillo and his co-plotters be held accountable. Furthermore, the diplomatic corps (intelligence operation bases) of Latin America's, Russia, and China's non-democratic regimes that have supported the coup instigators should be carefully monitored. This is not the moment for unprincipled debates, which surely the Castro-Communist regime will push for to buy time in its attempt to save the FSP's project in this Andean nation. Perú is today an inspiration of liberty. Its bold action should be emulated.
© The CubanAmerican Voice. All rights reserved.