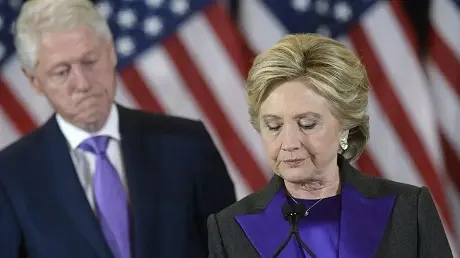 Is the Clinton Machine Whitewashing BLM?
The communist-linked organization is in serious trouble if it wants to continue receiving lavish donations from woke capitalists.
Black Lives Matter reaped $90 million in donations in 2020, according to "Impact Report" published by its central holding entity, the Black Lives Matter Global Network Foundation (BLMGNF). $60 million of that sum is unaccounted for. This has brought major publicity and potential legal problems for the Marxist organization. Suddenly, the controversial Democratic lawyer and Hillary Clinton loyalist, Marc Elias, appears as BLM's legal counsel of record. Minyon Moore, another staunch Clinton associate, is now listed in the group's filings as part of BLM's board of directors. The Clinton machine is out to rescue the communist movement from public shame and potential tax-related structural setbacks.
The Marxist organization, which was founded in 2013, was granted tax-exempt status by the IRS in December 2020 and given a 501(c)(3) classification (Tax ID # 82-4862489). $8.4 million was spent on operating expenses, $2 million was dedicated to the 2020 election vote production, and $21.7 million appears to have been spent for alleged "social justice" purposes by way of grant disbursements, according to the previously cited "impact report." The remaining 67% of the donations received during the 2020 socialist insurrection in America, or $60 million, was found nowhere in the BLMGNF 2020 short form 990 tax filing, as was revealed in a high-depth investigation conducted by the Washington Examiner.
Andrew Kerr, the reporter examining BLM's finances for the Washington-based news outlet and weekly magazine, discovered a host of irregularities. This has prompted numerous states to initiate investigations that may place the Marxist group outside the permissible legal boundaries for non-profits, in addition to potential criminal activity. The militant black group's listed Los Angeles address for tax purposes, as revealed in the filings, appears to have been bogus. A security guard told the Washington Examiner reporter that BLM never had an office at that place. A spokesman for the movement later told the news outlet that they currently do not have a "permanent address."
California, Connecticut, Maine, Maryland, New Jersey, North Carolina, Virginia, Indiana, and New Mexico, since January 2022, have all begun or are considering initiating investigations of different types on BLM's shady business handling. It is a federal criminal offense to utilize tax-exempt privileges for purposes of receiving money without rendering it to thorough public scrutiny or abiding by its strict guidelines as far as spending. The communist-linked organization, in other words, is in serious trouble if it wants to continue receiving lavish donations from woke capitalists and other fellow travelers and useful idiots, as Vladimir Lenin used to call them.
When even a super woke charity platform like AmazonSmile kicks you off their program, if you are a left-wing radical group, you know you are in serious hot water. This is most likely the reason high-profile leftist Democratic players have entered the BLM apparatus. Marc Elias is the person most responsible for scheming the electoral preconditions that paved the way for the Biden-Harris ticket to claim "victory" in the 2020 election. Elias Law Group, a law firm owned and run by the Clinton ally, is listed as the BLMGNF legal caretaker. Elias, as a former partner of Perkins Coie, was actively engaged in the fabrication of the infamous Steele Dossier for the Clinton campaign during the 2016 election. Elias, in other words, was one of the insiders accountable for the tragedy of the now debunked Trump-Russia collusion conspiracy.
Minyon Moore, another influential part of the Clinton political coterie (of both Bill and Hillary), is presently listed as a member of BLM's board of directors. Moore is also a former chief executive officer of the Democratic National Committee (DNC), an organization that played a big role in the domestic espionage carried out against candidate and then-president Donald Trump, as per the Durham Report's February 11 filing. Additionally, Moore has served as the "Director/President" of Onward Together, a dark money Clinton nonprofit started after the loss to Trump in 2016, for the fiscal years of 2017, 2018, and 2019. The radical group intellectually held together by racial identity Marxism (Critical Race Theory) has reached out and received the aid of the Clinton war operation.
Under the legal stewardship of Elias, BLM cleverly changed its accounting cycle from a calendar year reporting to a July through June cycle. The added time afforded (until June 2022), undoubtedly, will fare well in the socialist group's effort to explain the whereabouts of $60 million and ward off potential fraud indictments. Communists, it always turns out, love other people's money for themselves. They have built an impressive historical legacy of ripping people off by using ideology.
©The Cuban American Voice. Originally published in @El American. All rights reserved.