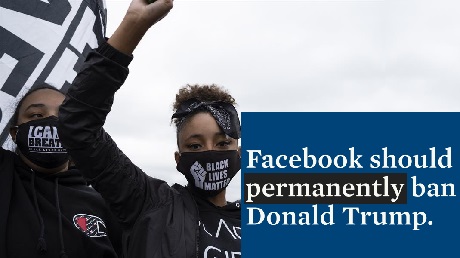 Black Lives Matter's New Demand: Ban Trump from All Platforms.
Adding steam to despotism's train, Black Lives Matter (BLM) issued a new demand on its website. The Marxist group is now also calling for the permanent ban, from all social media platforms, of former president Donald J. Trump. This comes as Facebook's ban of the 45th president was upheld on Wednesday, May 5th by its own Oversight Board, an entity invented by the social media giant to weigh in on its decisions and offer an imagery of independent auditing.
The forces of Big Tech appear to be in perfect collusion in attempting to silence conservatives in general, but Trump most particular. Twitter, Snapchat, and YouTube will now be joined by Facebook in this permanent censorship scheme. The Silicon Valley oligarchs have been joined in this dangerous move to suppress free speech, by the Democratic National Committee (DNC).
The New Demand grows and is gaining momentum



The nation's largest political party emitted a tweet calling for Trump's extinguishment from the world's largest social media network. The DNC tweeted "Facebook should permanently ban Donald Trump". This type of ideological congeniality has been played out well in totalitarian regimes. After all, this is precisely the notion of what constitutes a "regime", non-governmental institutions who are, for practical purposes, de facto extensions of the ruling political power.
Retweet if you agree. pic.twitter.com/4S7GYqEp9L

— The Democrats (@TheDemocrats) May 5, 2021
The fact that BLM has added yet another systemic demolition "demand" on its organization's website, should surprise no one. Here are their current seven "demands": 1. Convict and ban Trump from future political office; 2. Expel Republican members of Congress who attempted to overturn the election and incited a white supremacist attack; 3. Launch a full investigation into the ties between white supremacy and the Capitol Police, law enforcement, and the military; 4 the Trump social media platform ban; 5. Defund the police; 6. Don't let the coup be used as an excuse to crack down on our movement; and 7. Pass the BREATHE Act.
It is most important to understand the worldview symmetry that underlies the abridgement of First Amendment rights, by private corporations, as well as a major political party (DNC) and political movements like BLM. The common thought denominator that fuses together the rationalization of these actors is the presuppositional falsehood that is found in Neo-Marxism's Critical Race Theory (CRT). The need to quash speech and activity that goes against the left's worldview scope of social relations and the existing order is straight out of the Frankfurt School's "Repressive Tolerance" 1965 essay (from A Critique of Pure Tolerance) penned by Herbert Marcuse. This cultural Marxist seminal dogma proposition argues vehemently for hindering contrarian views by any means necessary, even violence.
The left-wing conspiracy theory that underwrites the narrative that there is a white-supremacy hegemonic model in place and the January 6th Capitol Building breach was a "coup" attempt, as BLM calls it in their website, is fundamentally a CRT view of the world and events. Unfortunately, Big Tech, mass media, woke capital, and the Obama-controlled Democratic Party, have all subscribed to this socialist farce.
"The Silicon Valley oligarchs have been joined in this dangerous move to suppress free speech, by the Democratic National Committee (DNC), the actual governing body of the Democratic Party". (Flickr)
The notion that an entity such as BLM, which has brazenly exercised domestic terrorism in over 600 riots in 2020, causing a toll of death, injury and destruction, far greater than anything the regrettable January 6th assault caused, can call that incident a "coup", shows us how dangerous America is trending.
We are now in a 21st century Roman coliseum and the inherent characteristics of the American Republic are being slaughtered to the lions. The ban on Trump is a ban on the free speech of all Americans.
©The Cuban American Voice. Originally published in @El American. All rights reserved.
🖋️Author Julio M. Shiling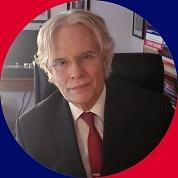 🖋️Author Julio M. Shiling
Julio M. Shiling is a political scientist, writer, columnist, lecturer, media commentator, and director of Patria de Martí and The CubanAmerican Voice. He holds a master's degree in Political Science from Florida International University (FIU) in Miami, Florida. He is a member of The American Political Science Association and The PEN Club (Cuban Writers in Exile Chapter).
📚Published books 📺In the media 👨‍🏫 Conferences and Symposiums 🎙️Podcast The Shiling Summary